Aradia Fitness Triangle, the first pole dancing fitness center in NC, has been serving the Triangle area since owner Dakota Fox's mother first opened the studio in 2007. Fox, who had originally helped her mother with the website and marketing, transitioned into a manager role by 2010 and purchased the business in 2012.
"During this time I was still working full time as a police officer, where I filled numerous roles as a field training officer, defensive tactics instructor, honor guard, and field investigator," said Fox. "I competed professionally in pole dance competitions worldwide, touring as a guest instructor, teaching workshops at studios and conventions. At the end of 2016, I decided to leave law enforcement after a decade in the field."
After having a daughter a year later, the demands of being a mother and running a business led Fox to bring on Janine Cooper as a partner — thus their "business marriage" was born.
"I discovered pole fitness around 14 years ago and took my first class," said Cooper. "I immediately fell in love with it and have been doing it ever since. After about a year as a student, I completed pole dance fitness instructor, group fitness, and personal training certifications and began teaching. I have taught at and managed several studios in the DMV (DC/MD/VA), Charlotte area, and the Triangle. I have performed and competed in shows and competed nationally. I have also judged various pole fitness competitions."
Fox and Cooper have combined their years of experience to provide lively and challenging classes to anyone who is looking for a unique and empowering fitness experience. Read on to learn more!
When was Aradia Fitness founded, and what was the idea behind its creation?
Aradia Fitness was founded in 2003 in Canada, by Tracy Gray and Christine Boyer. They had a combined background in dance, Pilates, and fitness and became fascinated with the style and confidence of the dancers in the adult clubs where they lived. When they couldn't find anyone to teach them how to pole dance, they made their own pole and created the Aradia Fitness method from trial and error. Their motto at the time was "Meet Your Sexy Side," with the goal of connecting with women and helping them claim/rediscover their femininity and confidence. They expanded their business model across the country before connecting with my mother. In 2007, my mother opened the first Aradia Fitness studio in the United States and the first pole studio in North Carolina.
Since then, Aradia Fitness (and the pole dance fitness industry as a whole) has grown and changed quite a bit. In the last five years, Aradia Fitness has rebranded our mission statement, logo, and motto to be more encompassing of the diverse community of students who find their way into our studios. No longer targeting just women, we strive to cater to persons from all walks of life who want to become strong, fit, and confident with Aradia Fitness.
What kinds of classes do you offer, and what do participants learn?
We offer pole, aerial (silks, sling, aerial yoga, and Lyra), group fitness, and movement classes. Our participants learn how to safely use aerial fitness as a form of exercise, all while getting in tune and connecting with their bodies, and having fun doing it. We take them through progressions with our classes, starting them from introductory classes through levels. We operate under a leveled curriculum so that students are properly progressing safely. Our pole and aerial classes delve into the aerial arts. We teach skills-based and choreography classes. Our group fitness classes are all of our non-pole and non-aerial classes, such as FlexAbility, ABtastic, Muscle Up, Zumba, Barre Fit, Fight Club, and many more. Group fitness classes help as cross-training for the aerial classes. We also provide movement classes, like our signature HeelWerk: Chair Dance and Floor classes. We host workshops with industry leaders, as well as in-house workshops led by our certified instructors.
What advice would you give to someone who is new to this form of movement, or maybe even a bit hesitant to try?
Just go for it! We hear all the time how interested people are in the idea of pole or aerial for fitness, but they are too intimidated to try it. Often people tell themselves they aren't in shape and couldn't do it, but in reality, the opposite is true! Come as you are, and all the other stuff will develop over time. Try to put all preconceived notions aside. Everyone has a different experience with this form of exercise, whether they're using it as an escape, a hobby, a workout, or they're just curious. Go into it with an open mind, and more than likely, it will shock you (in a good way). It's a great workout for the body and for the mind. Have fun with it, and enjoy your time. Thank your body for what it does for you.
Do you need prior experience?
Not at all! Everyone starts from the beginning, and as you go through the classes, it's a progression. You will be learning techniques to strengthen and condition your body, which will allow you to get stronger and be able to progress through our pole and aerial levels. For our group fitness classes, which are the non-pole and non-aerial classes, we have no prerequisites, and modifications can be made, if necessary.
Beyond fitness, what kind of impact do you hope Aradia has on its participants?
We have some students who have been with us since the beginning and others who come and go over the years. Some of the stories students share with us are truly heartwarming. A student who finally went for that promotion because they believed in themselves. Someone who left an abusive relationship because they finally believed in their self-worth and that they deserved better. A cancer patient who found a way to reconnect with their feminine side after chemo and a double mastectomy. The sexual assault survivor who thrived in the positive, welcoming community and found their inner strength again through movement and fitness. A person transitioning through a gender change/awakening who found their safe space to explore a side of them that had always been taboo. Whether we are in someone's lives for the long haul or just a short time, if Aradia can leave a positive impact on their lives, then we have done our jobs right.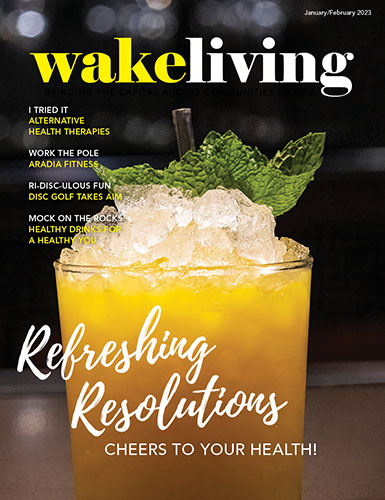 Small Business Spotlight: Aradia Fitness Triangle