If you grew up watching shows like The Woodwright's Shop — or if you just liked to explore your granddad's workshop and tinker with all the different tools — you'll want to learn about ShopSpace! At this massive downtown Raleigh warehouse space turned workshop, director and co-founder Lucas House helps students channel their creativity and learn to forge something of their very own out of metal.
When was ShopSpace founded, and what was the idea behind its creation?
ShopSpace started in 2014 when we started teaching classes in a small corner of my metalworking shop here in Raleigh. The main thing that led to the creation of ShopSpace was making the skills and tools for metalwork more accessible to the public. I started my own business right after graduating from NC State, and looking back, I really would have benefited from a place that had the advanced tools and expertise to help a beginning metalworker. I've been lucky to have many teachers pass on their skills, and I want to give that to others.
ShopSpace has been successful due to the community that's growing here, and it would be a very different place if not for the help of our co-founders Bill Knight, Dave and Mary Catherine Nicolay, and the many hours of volunteer help by our instructors, board members, and the public.
How did you get interested in metalworking, and how long have you been working in this art form?
I've been doing metalwork for 25 years. My first experience was a high school welding class. I fell in love with metal and found work helping out a local blacksmith as a teenager. After that I went to NC State for an industrial design degree, and after graduating I started a forging and fabrication business here in Raleigh.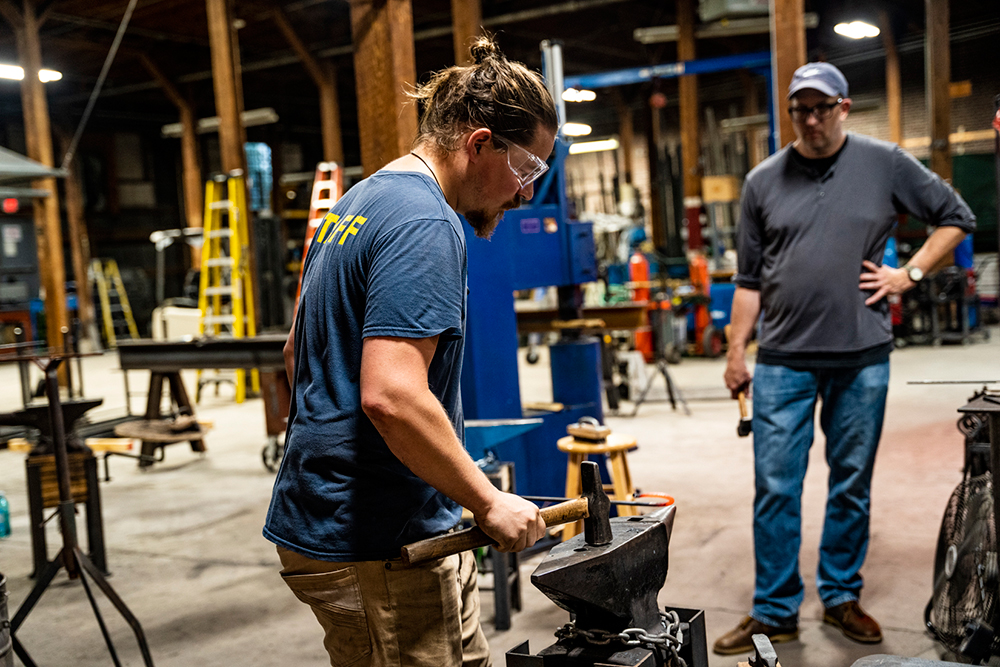 What are the different classes you offer, and what do students learn?
We have classes in blacksmithing, welding, and small metals. The classes focus on projects like hooks, leaves, bracelets, or flowers, with the goal of teaching the students a specific set of skills and letting them go home with something they can be proud of. The later classes cover more advanced topics, like making your own tools: chisels, tongs, and finally your own personal hammer. We also teach a lot during our open studio time. People come in and work on their own projects, and we continue adding to their skills as they build some really amazing things.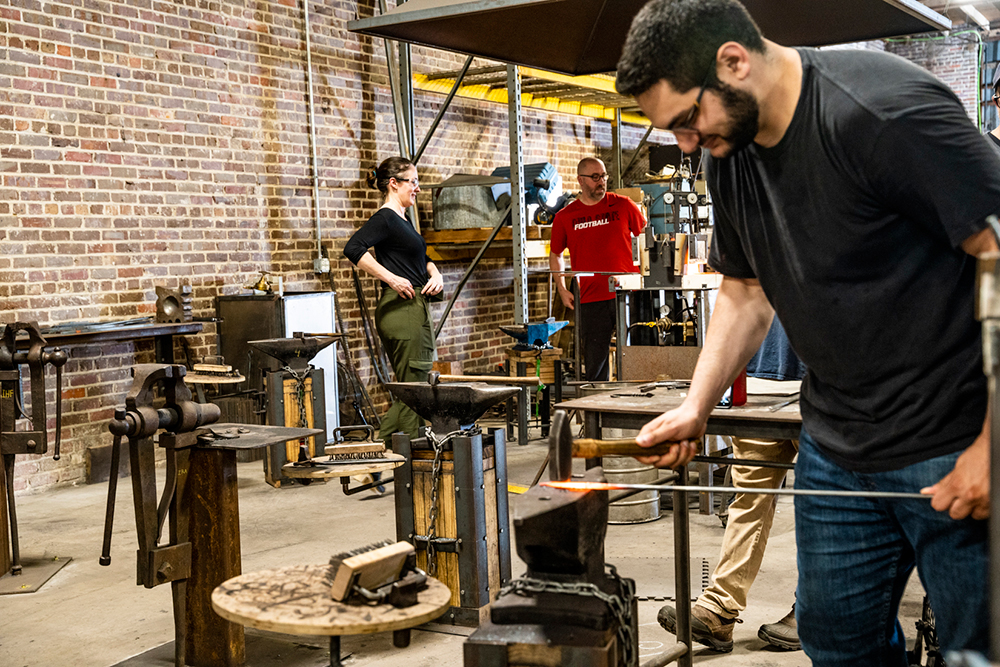 What is the learning environment like?
Classes run from four to eight students, depending on how complicated the class is. We're in a 15,000-square-foot building with dedicated welding, forging, and jewelry areas, and we have a filtered and ventilated room just for grinding and sanding. The shop definitely gets noisy when things are busy, but I think that's when we all have the most fun. We especially love our open studio hours when there's a dozen or more people in the shop, everyone is working on something different, and it is fun to walk by and admire the work, provide some advice, or just chat with all the people we've gotten to know.
Do you need any experience before taking your first class?
No experience is needed. All of our classes are open for anyone 14 and up, and we have a kids blacksmithing class for children 10 and older.
Do you provide all the materials?
Materials, tools, and safety equipment are included in all our classes. We also work hard to conserve leftover material to keep a stockpile of free metal to be used in open studio time for smaller projects. For larger or more elaborate personal projects, folks bring in their own metal or buy from our stock.
Do students come away with a finished piece at the end of most classes?
Yes! A major goal of any ShopSpace class is to make sure a student can walk away with tangible proof of their new skills.
After taking a couple of classes, can you come to an open workshop and work on your own projects?
You could start after just one. We have three intro classes in the three main sections of the shop covering welding, forging, and small metals. The first classes all teach safety, basic operation of the tools, and techniques needed to make a small project. After that one class, you are free to work in that section during open time. To use the whole shop, you just need to have taken the intro class for each area.
What are some of the different projects students have worked on?
There's been a pretty incredible variety of work. Even on a student's first day of welding, I've seen dogs, spiders, spice racks, miniature houses — all done in the first class. We'd need several pages to list all the things we've seen during open time, but a short sample is: forged hummingbirds and elephants, steel flowers, woodworking tables, bookshelves, copper monsters, and a lot of hooks! Each of those comes with the unique touch of the person who made it. If I asked 10 people to make bottle openers, we'd finish with 20 different designs. I'm always proud that we can encourage people's skills and creativity, and I'm grateful to everyone who came to learn and stayed to build — they are what ShopSpace is all about.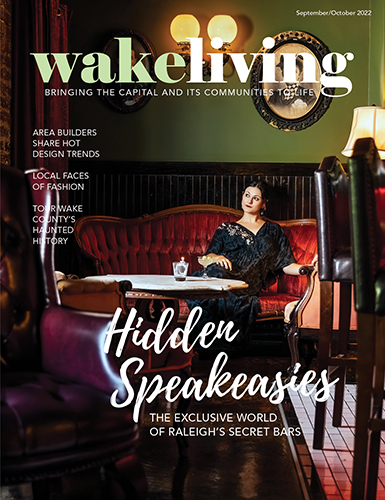 Small Business Spotlight: ShopSpace