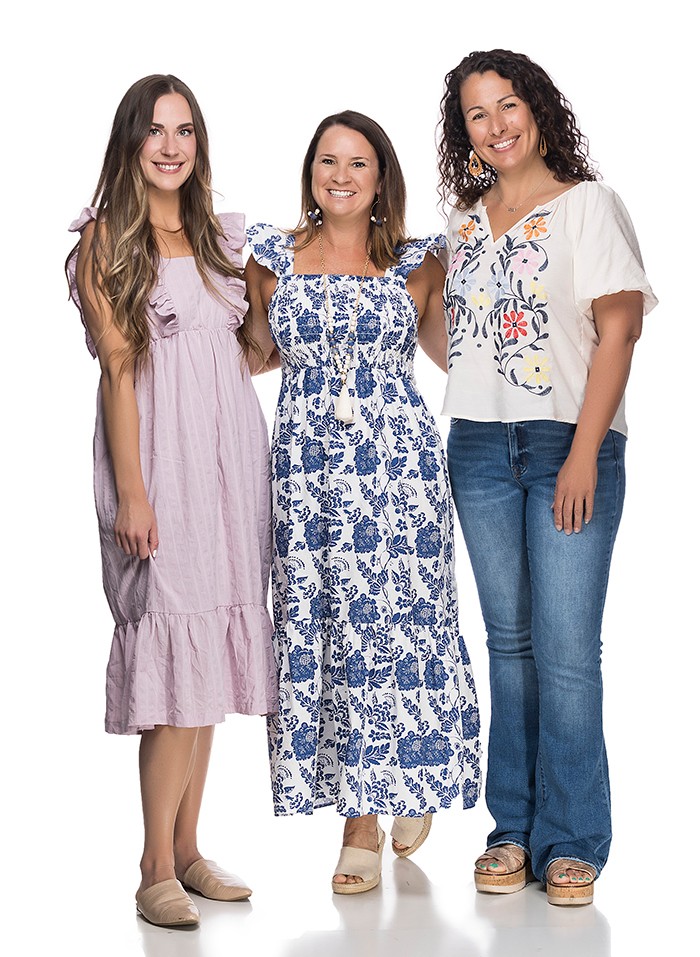 Left: Ruffled Midi Dress, $52. Medium Twisted Hoop Earrings, $21. White Howlite Bracelet Stack of 3, $18. Mules, $38.
Center: Blue and white maxi dress, $98. Initial Decor necklace, $54. Initial Decor earrings, $24.
Right: Embroidered top, $47.99. High-rise flare jeans, $69.99. Rattan earrings, $24.
There's a new shopping destination at Cary's Crossroads Plaza — Painted Tree Boutiques. Filled with dozens of vendor booths carrying clothing, home decor, art, accessories and artisan food products, the indoor marketplace offers a unique opportunity to support a variety of local business owners in one place.
We are excited to introduce three of the many boutique owners at Painted Tree, each with a passion for making women feel beautiful through their thoughtfully curated clothing collections.
Amber Garcia
Maren May's Boutique
marenmaysboutique.com
Amber Garcia loves clothes. Finding the perfect outfit, helping others find the perfect outfit, discovering pieces that are unique and modest and accessible — she loves all of it. Garcia launched Maren May's Boutique in June 2021 to bring her love of fashion to women who are searching for sophisticated, feminine and modest styles.
"Where are the clothes for 30-year-old women?" said Garcia. "Where do you find clothes that are flattering to you and where you are in life?"
Maren May's specializes in feminine styles, like tops and dresses with ruffles, pleats and sophisticated details.
"The work itself is so fun to me. I love picking pieces for women of different styles and types," Garcia said.
Tara Parrish
Parrish Lane
parrishlane.com
In search of a creative outlet just for herself, Tara Parrish left a well-known direct sales company to found Parrish Lane so she could be true to her own style.
"My brand is me. I'm constantly changing. My brand is, too," Parrish said.
Parrish Lane carries comfortable and beautiful women's clothing and accessories, often featuring other local small businesses, such as Raleigh-based Initial Decor.
"Clothing isn't everything, but something special can brighten up your day," she said.
Stephanie Sikes
Closet Sikeology
closetsikeology.com
Since the summer of 2020, Stephanie Sikes has been bringing bohemian, California-inspired clothing to the women of the Triangle.
"I was born in Southern California, and that vibe is embedded in my soul," said Sikes.
Closet Sikeology specializes in laid-back styles featuring embroidery and texture that exude that easy-breezy SoCal vibe.
"I buy what's true to me and things that I would wear," said Sikes, including popular combinations like graphic tees and maxi skirts or casual dresses with sneakers.
"Through my boutique, I can empower women to feel good every day," said Sikes.
Shop these businesses and more at:
Painted Tree Boutiques
240 Crossroads Blvd., Cary
paintedtree.com