Raleigh Brewing Company on Hillsborough Street was the scene of an epic graduation party to cap off a magical year of food, fun, and friendship thanks to Tom and Rachael Sullivan, who have built an entire career from making home-cooked meals for Triangle college students.
The food line made three loops as it snaked around the parking lot, where hundreds of kids waited politely for a plateful of steaming whole-hog barbecue and fixings, hot off the grill. A food truck and beer tent stood close by with an ID checkpoint serving up handstamps and a beer ticket for guests 21 and older. The local band, Cosmic Superheroes, blasted tunes.
On this blistering Sunday afternoon in April, they came in droves, descending on the feast like, well, hungry college students, and leaving little more than crumbs in their wake.
"They were scraping the bottom of the bowl on the coleslaw," Rachael said, laughing in a Zoom call a few days after the event. She and Tom had emailed 700 invitations to kids, posted invitations on Facebook, Instagram, and TikTok, and even went old school, handing out flyers advertising the event. They had 900 RSVPs and estimated more than 800 students showed up.
They came on foot, on bikes, and on scooters. They came in cars, and those who live outside Raleigh carpooled.
Reagan Wayne and Atticus Sopp came all the way from Chapel Hill, a 40-minute commute each way. Graduating seniors at UNC, they had met the Sullivans shortly after they began feeding students twice a month from their Raleigh home.
"The meal program they run feels like family," Reagan said. "Tom and Rachael treat us like we are their own kids."
How the throngs of students came together in a scorching parking lot is a story that is short and sweet, and one that moved across social and mainstream media like a fast-moving wildfire. How it all started is up for debate.
At first glance, it could have started when Tom began cooking special meals for Rachael to ease the symptoms of PCOS — polycystic ovary syndrome — from which she suffers, which throws hormones out of balance and often inhibits pregnancy. But it goes back much further than that, all the way back to Rachael's own college days at Appalachian State University. A native of Chicago, Rachael drove from Boone to Raleigh on weekends to enjoy time with friends. The ritual made North Carolina feel more like home.
After graduating, she returned to Chicago, where Tom lived. The two eventually married and moved back to Raleigh, where they befriended college freshman Kevin Gallagher, whose family lived next door to the friends who had adopted Rachael.
In June 2021, Rachael posted about adopting Kevin on TikTok and Instagram, dubbing him College Kid Kevin, and immediately students began flooding her social media asking to be adopted too. From there, the movement went viral. Both Tom and Rachael quit their jobs to help students full time, and the rest is history. Today, they provide nutritious meals twice a month for area college students. They can only speculate why it took off.
"I guess maybe it was COVID-19 that made the kids decide they wanted to be adopted because they were feeling lonely," Rachael said. "We really can't put our finger on any one reason."
Raleigh Brewing Company (RBC) also played a key role in the graduation festivities by inviting a small group of seniors to learn how to brew beer. Alongside RBC brewers, the students made a tasty small batch dubbed "Class Dismissed."
College Kid Kevin, now a sophomore, was there. He stood in the middle of the RBC parking lot and surveyed the crowd with wide eyes.
"This is wild," he said, shouting over the band's music. "I have learned a lot from knowing Tom and Rachael, and mainly, I learned about the importance of community and helping others."
The best news of all is that Rachael is pregnant. Her baby is due on July 19.
For Atticus and Reagan, the journey is bittersweet. After graduating, they'll leave Chapel Hill, the Sullivans, and the friends they've made as they venture into their next chapter.
Atticus reflected on how the Sullivans brought all these kids together on this spot on this day. And he marveled at how their simple act of kindness became a movement and changed lives, including their own.
"They didn't choose this life. Instead, this life chose them," Atticus said. "This is a master class in how you can accomplish great things when you do something you are passionate about."
If passion brought Tom, Rachael, and 800 college students this far in 12 months, next year should be a doozy. You can follow their journey on Instagram at @mealssheeats, where they have more than 220,000 followers.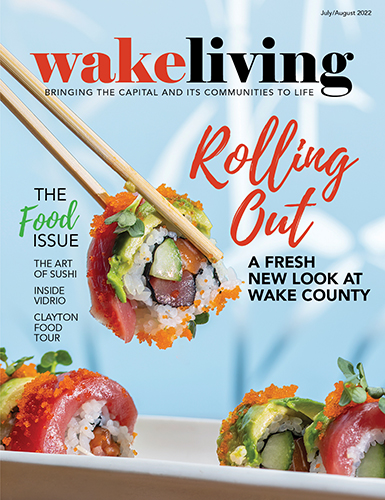 Pay it Forward: Meals She Eats