Raleigh's Glenwood South neighborhood might have a reputation as more of a bar scene, but it only takes a moment upon stepping inside Vidrio to realize that this space transcends stereotypes. The soaring ceilings and multilevel dining room invite guests to sit down and enjoy a culinary tour through the Mediterranean region, led by Chef Saif Rahman and his team.
Chef Rahman was the original chef when Vidrio opened in 2017. He stepped away from the kitchen for a bit to tend to family matters, but returned in 2020 with a bang, churning out dishes that draw their inspiration from the storied spices and culinary traditions of the many countries that border the Mediterranean sea.
"I grew up in a family where in the kitchen we had a mortar and pestle, about 50 different spices and dried herbs, and abundant access to fresh produce, fish, and meat," Rahman recalled. "I love cooking with spices. When I started my career as a young cook, I realized that there were 21 countries around the Mediterranean Sea. Countries like Morocco, Tunisia, Egypt, Libya, Turkey, Israel, Spain, and Syria use similar spices and techniques even though they are far from Bangladesh, where I come from."
Rahman poured his love for spices into the menu at Vidrio, where a number of the dishes are cooked in a wood-fired hearth in the open kitchen that looks out over the dining room. The NY strip steak gets the wood-grilled treatment and comes with a whiskey mustard, braised shallots, and crispy leeks.
Spices also play a role in the Joyce Farms Roast Chicken, which gets a generous coating of Vidrio's own harissa spice blend (common in North African cooking) and is served alongside a zippy herb salad and punctuated with fragrant rose petals.
Chef Rahman's inventive play on baklava, a familiar and much-loved dessert around the world, is another popular dish on Vidrio's menu. Rather than the traditional diamond slice of baklava, the puff pastry and nutty pistachio filling have been deconstructed and strewn atop a scoop of vanilla ice cream before being drizzled with honey.
It's these unique plays on tradition and spice that allow Chef Rahman to take his guests on a culinary journey through a region that most may only associate with France, Italy, or Greece. Rahman and his team have truly delved into the culinary traditions and foodways of the entirety of the Mediterranean region, meaning that a diner is just as likely to find something familiar on the menu as they are to discover a new-to-them dish.
And as is befitting a restaurant of Vidrio's caliber, there is an extensive wine list and innovative cocktail program to complement the food. The Paradisi is a nod to the ubiquitous Gin Tonics that adorn cafe tables across sunny seaside towns from Spain to Croatia, and is made with Hendrick's gin, a house-made Grapefruitcello (as opposed to Limoncello), fresh lemon juice, and Peychaud's bitters.
There's also the spicy Jalisco's Revenge, with hibiscus-tinted tequila, the Rare Bird, with rum and Campari, and a clever play on a French 75 called the Saint 75. This sparkling sipper comes with London dry gin, pomegranate, lemon juice, lavender syrup, and is topped with bubbly rosé wine.
Recently, Chef Rahman has also launched a series of country-specific dining events, where guests are treated to a tasting menu drawn from the culinary traditions of a particular country. The dinner series kicked off with the food of Portugal, and upcoming events will whisk diners to Egypt, Lebanon, Turkey, and even Ukraine.
For his part, being able to draw from such a wide range of foodways has allowed Chef Rahman to continue to find the joy in cooking day after day, rather than churning out the same menu each night, week, or month.
"I do not have a favorite dish," he admitted, "or I have yet to cook my favorite dish. When I cook, I feel like, 'Wow, that was delicious,' until I meet another ingredient and I say that same thing again," he added, laughing.
It's that creativity and commitment to showcasing beloved spices and food traditions in a new, unique way that makes Vidrio such an exciting place to eat. Chef Rahman's love for the cuisine of the Mediterranean region flows from the kitchen right onto the plates that are whisked to hungry diners throughout the bright, airy space. A meal at Vidrio is a bit like taking a vacation without ever having to leave Raleigh — one in which your tour guide is as excited to show you the sights as you are to see them.
"My only hope and dream is to cook well and cook with the intention of connecting with our guests emotionally through food," Rahman insisted. "I want to make our guests feel what my grandmother and mother made me feel when I would sit around the kitchen while they cooked."
At Vidrio, he seems to have accomplished just that, creating a dining experience that transports diners to the kitchens and tables of the Mediterranean the moment they step through the doors.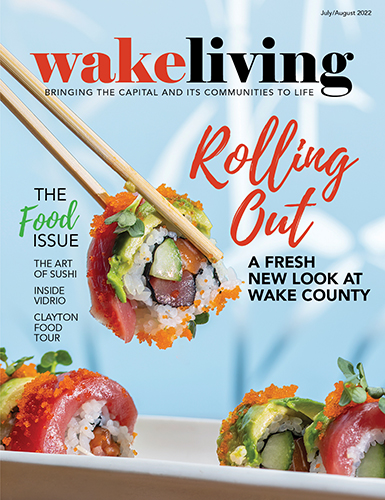 Restaurant Profile: Vidrio