You may not think of Clayton as an epicurean destination, but passionate local business owners are out to change your mind with their energy, creativity, and Clayton's downtown charm.
Crawford Cookshop
Fans of Raleigh restaurants Crawford & Son and Jolie will delight in exploring a new establishment by award-winning chef Scott Crawford, but might also ask, "Why Clayton?"
To which he answers, "Why not?"
"Crawford Cookshop is an opportunity to explore classic Southern influences and bring something new and fresh and exciting," says Crawford.
A beautiful space and the charming energy of Main Street Clayton aligned to create the perfect fit for Crawford's most casual concept yet.
"The Americana idea came about during the Covid shutdown. We created casual versions of Crawford & Son recipes for curbside takeout, and we really liked it," he says.
At Crawford Cookshop, you'll find traditional and humble Southern classics, such as chicken wings and country fried steak, but prepared with Scott Crawford-level refinement and local collaborations.
For example, pimento cheese — an overwhelmingly popular snack on the menu — is served with farm-fresh vegetables from nearby Chickadee Farms and grilled toast from Raleigh's Boulted Bread.
The recipes are heavily influenced by the seasons, featuring greens, radishes, and peas in spring, transitioning to corn, tomatoes, and peppers in summer.
"We love having families in all the restaurants, but we want to especially make it known that we want families in Crawford Cookshop," says Crawford.
"A lot of people from Raleigh have come to have a different experience. We should do more of that," he says. "Go explore. There's a lot happening."
Crawford Cookshop
401 E. Main St., Clayton
(919) 585-6055
crawfordcookshop.com
Clayton General Store
It's hard to know what to explore first inside Clayton General Store. There's the wall of hand-poured jams, jellies, relishes, and sauces made by NC artisans. Or racks of cheerful home and garden decor and handmade gifts. Or one could head straight to the extreme milkshakes that attract customers from hours away.
Served in a personalized Mason jar, with seven (yep, seven) scoops of ice cream, a decorated rim, whipped cream, plus even more toppings, the milkshake bar at the Clayton General Store has exploded in popularity since its beginnings in September 2021.
"The record in one day was 313 milkshakes. People were waiting 2 1/2 hours for a milkshake," says Scott Eason, Clayton General Store owner and Clayton native.
A two-person team works together to create each of the 35 different flavors, including Peanut Butter Cup Explosion, Magical Unicorn, and Oreo Overload.
Milkshakes are best enjoyed on-site in the "backyard," set with picnic tables and cornhole boards. The cozy setting hosts outdoor family movie nights during the summer months.
Clayton General Store
10522 Highway 70 Business, Clayton
claytongeneralstore.com
Deep River Brewing Co.
As the first legal brewery in Johnston County (there's a story there, we think), Deep River Brewing Co. has created a lively, welcoming brewery and tap room in downtown Clayton, beckoning guests to enjoy the indoor/outdoor seating areas, special events, and frequent live music.
You've probably heard of their signature IPA, Mango Tango Foxtrot, but lesser-known, limited-edition releases showcase the brewers' creativity and humor — Bitter Unicorn Tears, Donkey Sauce, and Yachty By Nature are but a few.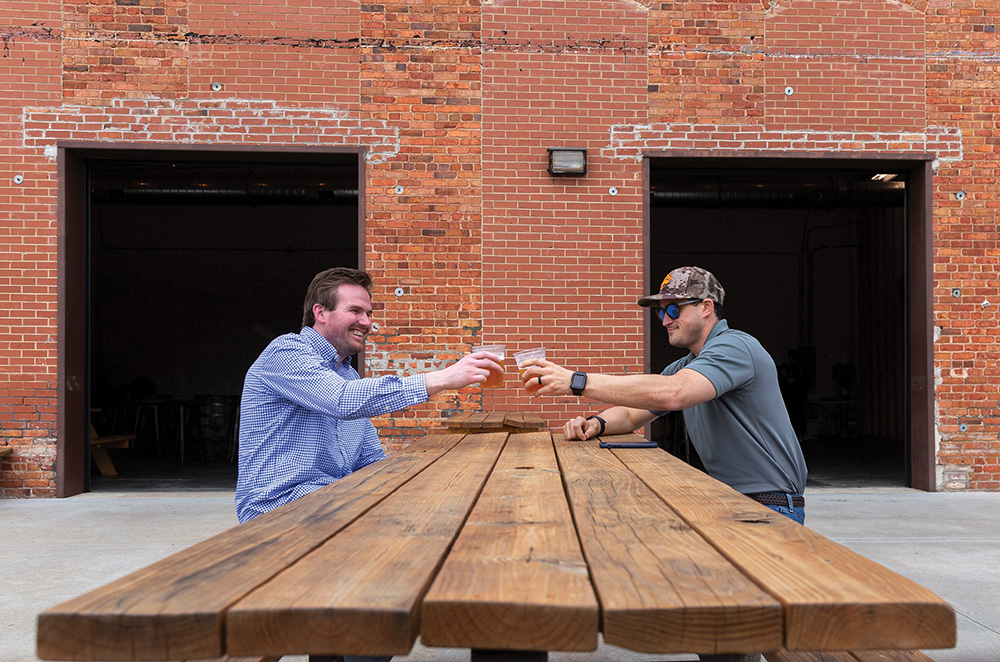 Owners Paul and Lynn Auclair left careers as engineers to pursue their shared passion for homebrewing, opening Deep River Brewing nine years ago.
Check the online events calendar for the extensive lineup of food trucks, small business events, and live music.
Deep River Brewing Co.
700 W. Main St. Suite 102, Clayton
deepriverbrewing.com
Nancy Jo's Homemade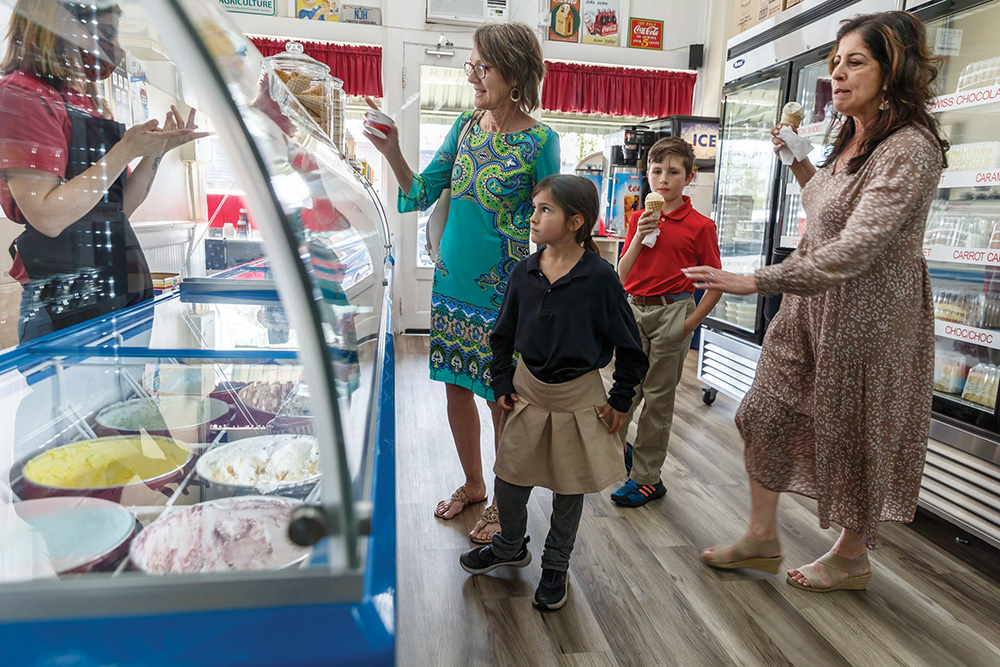 Inside Nancy Jo's Homemade, you'll find an assortment of layer cakes, pies, and fudge just like grandma used to make — grandma, of course, being Nancy Jo Stone herself. Five North Carolina locations are run by Nancy Jo's extended family, including her son David Townsend, who oversees the cafe in downtown Clayton.
Clayton's eatery is the only one of the five that offers lunch service, offering sell-out-good chicken salad, pimento cheese, burgers, hot dogs, club sandwiches, and Hershey's ice cream.
"Twelve layer cake is the top seller currently," says Townsend. "The layers are individually baked, and the cooked fudge icing is made on the stove. It looks great and brings lots of Southern nostalgia."
Pig pickin' cake is a close second though, with Mandarin oranges and pineapple, and may outpace the 12 layer cake before long, Townsend thinks.
Refrigerator cases inside the cafe offer easy grab-and-go sampling of all Nancy Jo's offerings, including some prepared meals, like chicken pot pie and baked spaghetti.
"We started offering those during the pandemic. People would come in and pick one up for themselves and pick one up for a neighbor. It opened up the community to look after each other," says Townsend.
Nancy Jo's Homemade
200 E. Main St. #103, Clayton
nancyjoshomemade.com
Craften (COMING SOON)
Building on the success of the premier Craften, located in Knightdale, Clayton's own food hall experience will have space for four craft kitchens and the Craften bar, but will operate with a waitstaff like a traditional restaurant instead of a typical self-service food hall.
Food-hall-style kitchens allow up-and-coming chefs the chance to test a brick-and-mortar location without sky-high startup costs.
"We truly believe this is a national need and opportunity to celebrate local, brilliant chefs, brilliant concepts in a non-downtown environment," co-founder Kip Downer said in an interview with WRAL. "It is our plan to go into local markets and celebrate what makes them unique."
The Clayton location will be on Briarcliff Drive.
More to Explore:
Jones Cafe
A local landmark since 1958, serving breakfast and lunch.
415 E. Main St., Clayton
(919) 553-7528
Clayton Steakhouse
Friendly neighborhood steakhouse serving lunch and dinner.
307 E. Main St., Clayton
theclaytonsteakhouse.com
Mannings Restaurant
Upscale, casual classics with a twist.
406 E. Main St., Clayton
manningsonmain.com
Revival 1869
Inventive craft cocktails, small plates, and live jazz. Also check out Relevant Goods & Provisions boutique grocery and cocktail shop inside.
222 E. Main St., Clayton
revival1869.com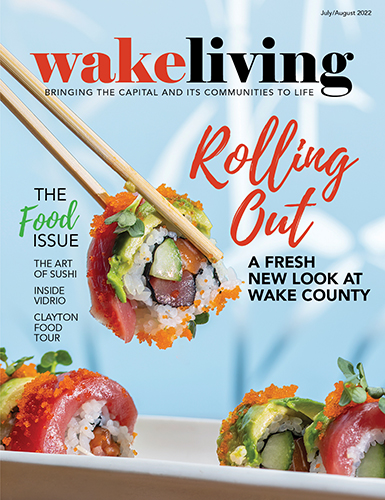 Clayton: The Foodie's Tour