Hello — is it tea you're looking for? If so, grab a mug and raise your pinky, because Raleigh Tea Company — previously known as Western Dragon Teas and Tisanes — has been providing the community with delicious and organic fair trade teas since 2016.
Owner Anthony Garcia, who is also an artist and playwright, brings a distinctly artistic flair to his product line, offering themed collections that can suit any occasion. Due to the ever-growing demand of local, organic tea in the area, we got chat-tea with the busy tea expert to discuss the business and his love of brewing.
How did the Raleigh Tea Company come to be?
The journey has been like a NASA funhouse. I was working for a nonprofit, but after 12 years the funding ran out. I started thinking about working in another office, but it depressed me to think that I would have to sit at a desk for eight hours doing something that wasn't fulfilling. I love cooking and I have done catering, but with food there are too many hoops. So I thought, why not tea? The shelf life is long, and people love it. I took money that I had set aside and started doing research on health and tea.
I started creating blends, and I wanted to have fun and let people have fun with it. The first thing I created was a sleep tea that I call Dragon Sleeps Tonight, with cinnamon apples and Egyptian chamomile — simple, with a taste that lulls you to sleep. I also wanted to inspire young people to drink more tea, so I came up with my Anime Collection: Dragon Ball G (ginger green tea), Moon Sailor Tea, and Dragon of Zelda. Then came Tea 4 the Soul, which are comforting teas, and my time travel teas. My Royal Collection includes teas inspired by the House of Royals, like Queen of Scots and the Tsar's Tea.
Once I had all of this, I set out to see who would want to sell it and where. I found a few stores that were eager to sell local teas, and a few did well and others didn't. But you keep going. I am used to this sort of struggle. As a playwright, I had a lot of scripts rejected, and as an artist (acrylic on canvas), I'm used to knocking on doors and being a door-to-door salesman.
Everything that I've done in my life has prepared me for this moment where I own my own business, and I love doing it.
What teas do you specialize in?
We've been creating organic blends for six years in Raleigh, the way a chef prepares an exquisite dish made to order. Every time an order comes in, I blend it, and off it goes.
We specialize in magnificent blends, especially custom blends with organic herbs and true teas. I didn't want to pre-blend things and have them sitting around in some jar. I love creating a blend and adding color to it. As an artist, I see everything as an opportunity to create art.
Who taught you the art of tea-making?
When we were children, my mother would make infusions for us when we had a cold, or she would give us chamomile and mint teas to calm us. I did meet a Baron in Miami, and I would have tea at his house every so often. He taught me about more serious teas, like oolongs and pu-erh. He would always ask me what tea I wanted by saying, "India or China?"
Why did you want to work for yourself?
Because I'm an artist. I've always had difficulty working for other people in something that is not the arts. I am not the sort to follow rules and regulations or to wear a tie and a pair of beige Dockers — to me that's a slow death to the soul. I'm also a playwright, and that is the only time I love collaborating.
What is your most popular tea?
We have an herbal tea called Nags Head Cooler, which is a blood orange red South African tea blended with hibiscus and Pakistani red rose petals. For a true tea (caffeinated), people like Savannah 1990, a dark tea with in-house roasted bourbon pecans.
The Tea for the Soul collection is my favorite because I blend true teas with herbs and other good earth gifts and adaptogens. It's the collection that has more variety.
What varieties would you suggest for new tea drinkers?
I love the benefits of green tea, but I dislike the taste, so I blended a green tea and a dark tea together called Queen Victorious. This makes the green tea more palatable and adds a deeper layer of flavor. I also made one called Dragon of Zelda, which is a green tea blended with Pacific Northwest ginger and spearmint, again to make the green tea tastier. I would say begin with blends and teas that are not too smoky, like a Lapsang. But more importantly, when brewing the tea, make sure you don't steep it for more than two to three minutes.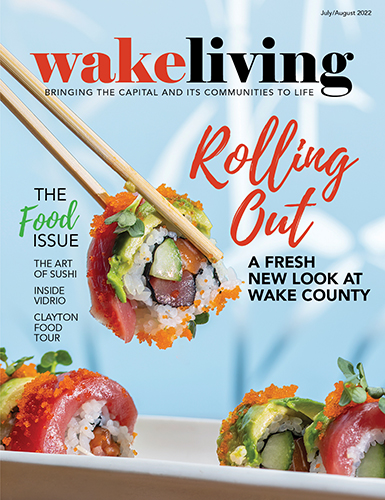 Small Business Spotlight: Raleigh Tea Company