On a bright morning in January, the temperature hovered around 28 degrees, and a thin film of ice across Falls Lake began melting as the sun chased the shadows away. Under still-bare trees, green sprigs of new growth peeked through the brown leaves along the Mountains-to-Sea Trail (MST) in Durham.
Despite the chill, a group of area residents gathered to receive instructions from Jennifer Browndorf, a volunteer and hiker who was leading a mission to clean up the trail around the lake.
Volunteers have been the backbone of the MST since its beginnings in 1977 and are still key to keeping it in good condition, said Brent Laurenz, executive director of Friends of the Mountains-to-Sea Trail, a Raleigh-based nonprofit launched 20 years ago to manage volunteer efforts, encourage people to enjoy the outdoors, and raise money to support these objectives.
"Early on, our purpose was building and maintaining the trail, but today it has evolved into much more than that," Laurenz said.
In addition to serving as a resource for hikers, the organization participates in community events, supplies speakers for civic organizations, and serves as an overall trail ambassador.
The volunteers do the heavy lifting, from ridding the trail of trash and debris, to bushwhacking overgrown pathways, to serving as trail angels for hikers, and staffing exhibits at festivals across the state.
"There are many ways volunteers enable the MST to be one of the state's best assets and a treasure residents can enjoy free of charge," Laurenz said.
One of the trail's biggest fans is Joe Miller of Eden, NC, founder of GetGoingNC.com, who is working with North Carolina's Hometown Strong program to help rural communities cultivate their recreational and cultural assets.
Miller says there's no time like the present to go outside and enjoy the state's natural beauty, especially during 2023, which has been designated as The Year of the Trail in North Carolina.
Miller especially loves the trail's 88 miles along the Blue Ridge Parkway from Grandfather Mountain to Stone Mountain, and stretches along the south shore of Falls Lake in the Triangle.
"The mountain section is a mix of rough-and-tumble escarpment of geology and serene passage through open meadows," said Miller. "On the Falls Lake section, I love how quickly the trail whisks you from a major urban area into secluded coves and forests."
The Mountains-to-Sea Trail is cobbled together from traditional hiking trails across woodlands, roadways, waterways, and public lands. It passes through three national parks, three national forests, two national wildlife refuges, seven state parks, and a variety of county and local parks. It touches 37 counties and many cultural and historical places along the way.
"It's not just a walk in the woods for over a thousand miles, but a journey that gives hikers a good feel for what North Carolina is all about," Laurenz said.
About 700 miles of the MST are woodland trails, greenways, beaches, and even a paddle route of 170 miles on the Neuse River, from Smithfield to New Bern. The rest consists of back roads that serve as connectors to the off-road parts, Laurenz said.
"It's really a community trail, and you don't have to be an experienced hiker to get out and enjoy a walk in the woods, through a state park, or on a beach, away from the busier aspects of life," he said.
For the more adventurous souls, the MST might be on a long-distance hiker's bucket list.
Records on the Friends of the MST website show 182 hikers completed the entire trail between 1997 and 2022. This list includes Brandon Stapanowich, a North Carolina native now living in Colorado, who recorded the fastest known through hike last June, covering the rugged 1,175-mile route in 23 days, 13 hours, and 28 minutes.
Laurenz points to the many people in communities across the state who take ownership of the trail and maintain it for everyone to enjoy.
The organization's 2021 Annual Report reveals volunteers logged 38,000 hours of labor that year. It was a labor of love.
"We see pride across our volunteers who embrace this unique opportunity to pay it forward and feel they are a part of something that is growing and improving year to year," Laurenz said.
That was how Diane Watson of Raleigh felt about volunteering at the January cleanup. "I enjoy hiking, and I am here to give back, meet new people, and get out for some exercise and fresh air," she said.
And for Miller, ambling along the MST is simply taking the scenic route.
"The slower you can go exploring a state as diverse as North Carolina the better, and walking the MST gives you a chance to appreciate that diversity, from the forest atop Clingman's Dome to the sand dunes at Jockey's Ridge," he said. "And best of all are the people you meet in between."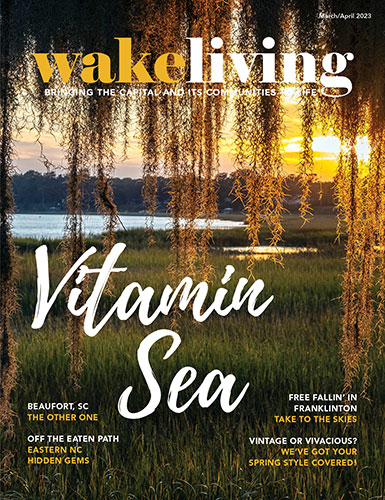 Pay It Forward: Friends of the Mountains-to-Sea Trail