When searching for the best way to describe Beaufort, South Carolina, two words immediately come to mind: hauntingly beautiful. The moss that drips from the trees, the gentle sway of the salt marsh, the shafts of sunlight streaming through the canopy of live oaks above. It's almost as if you've stepped into a Nicholas Sparks novel, full of achingly tender moments shared on a wide front porch, the ceiling painted haint blue to ward off evil. The hustle and bustle of Charleston, Savannah, and Hilton Head, all less than an hour away, seem impossibly far as you quietly observe the sun-glittered waves in the lap of a waterfront swing.
Formally founded in 1711 and known as "the Queen of the Carolina Sea Islands," Beaufort is the second oldest city in South Carolina after Charleston. The echo of its rich and remarkable history still lingers in the salt-tinged air — columned homes, raised high on tabby foundations, line the streets, their "welcoming arms," or staircases, directly facing the Beaufort River. Historic graveyards are the resting place for those on both sides of the Revolutionary and Civil wars, and the 225-year-old Beaufort Arsenal now serves as the Beaufort History Museum and Visitor Center.
Whether you're a history buff, nature lover, cinephile, adventurer, or sun worshiper, it's easy to be charmed by this "Little Charleston." Named the "South's Best Small Town" by Southern Living and "One of the Best Small Towns in America" by Travel + Leisure, there is plenty to see and do — and after three days of exploring the area, we're happy to share some of the pearls in this oyster shell of a town.
Local History
From exploration to foundation, Beaufort's history is multifaceted and complex — but for history buffs who enjoy a good story, a historic carriage tour of Beaufort is a must.
"We were named Beaufort after Henry Somerset, the 2nd Duke of Beaufort, one of our founders. It's pronounced BOWfort, North Carolina, and BEW-fort, South Carolina. Same guy, we just say it the right way," said Charlotte Lawrence, a carriage driver with SouthurnRose Buggy Tours. "Both sets of locals are picky — I know because my daddy's from Beaufort, North Carolina, but my mama's from Beaufort, South Carolina. So just remember us as Beautiful Beaufort by the Sea and you'll be just fine."
The buggy tours last approximately 50 minutes, leaving from Beaufort's Waterfront Park and winding through the historic streets of downtown. Tour guides offer a deep dive into the town's history, as visitors pass the longest surviving tabby sea wall in the country and a B&B that once housed General Sherman and Union troops during the Civil War. Other highlights include the Parish Church of St. Helena, once used as horse stables for the British Cavalry, and the historic Tabernacle Baptist Church — the resting place of beloved South Carolina icon Robert Smalls and the future site of the Harriet Tubman monument, honoring her role in the Combahee River Raid that freed hundreds of slaves in 1863.
Despite the fact that the Articles of Secession were drafted in town, the Union occupied Beaufort during the Civil War within a year, preventing the town from being burned to the ground.
"They sailed in on Nov. 7, 1861, with 14 battleships to attack the two forts protecting Beaufort. They kept both forts under fire for hours, and then took a 30-minute lunch break," said Lawrence, laughing. "The Confederates used this as a great opportunity to retreat. They got out so fast they left food on the table in this town — it was called The Great Skedaddle."
In addition to a wealth of historic highlights that cannot possibly be contained within these pages, the tour also takes you past famous movie sites from The Big Chill, The Prince of Tides, Forrest Gump, Glory, The Great Santini, and more.
Other historic must-sees in town include the Beaufort History Museum, the Old Sheldon Church Ruins (best seen when coming into town), tours of historic homes (including that of formerly enslaved Civil War hero Robert Smalls), and the Beaufort National Cemetery. Carriage tours are only the tip of the iceberg — you can learn about Beaufort's history by foot, boat, kayak, golf cart, or van.
Gullah Culture
You cannot visit Beaufort without learning about the Gullah people — African Americans who live in the Lowcountry region of South Carolina and Georgia who have preserved their unique linguistic and cultural heritage over the years due to geographical isolation. The Gullah language, influenced by English and numerous Western and Central African languages, is still widely spoken within the community. The African influence also extends to their crafts, cuisine, folk tales, music, and farming and fishing traditions.
Reverend Kenneth Hodges, who pastors Tabernacle Baptist Church, the oldest African American congregation in the area, opened the Gullah Geechee Visitor's Center on Lady's Island almost 45 years ago.
"I established it as an art gallery, but it puts a lot of emphasis on the history and culture as well, so it's set up similar to a museum," said Hodges. "We emphasize the Gullah-Africa connection, so in this gallery you'll find local Gullah work all the way down from sweetgrass baskets, the local vibrant art of Jonathan Green and others of this area, and some authentic pieces from Africa."
"I think it's so important for us to preserve our history, our heritage. I grew up in an isolated Gullah community, even more isolated than St. Helena. But the values that my parents taught us developed a sense of community and a sense of self-sufficiency. That's how they were — they were geographically isolated and they were able to survive. A lot of people don't understand how far we have come as a people, and the contribution that our foreparents made, so it's important for us to put the emphasis on that."
To learn more about Gullah history, Hodges recommends that visitors tour the Penn Center, one of the country's first schools for formerly enslaved people, located on St. Helena Island. A historic and cultural institution, the Penn Center sits on 50 acres and was declared a National Historic Landmark District in 1974.
"As you explore this island you will find that the people here love education; they are just always wanting to learn more," said Joanne Heyward, a Penn Center volunteer. "Penn Center brings out something in you that makes you just want to keep coming back. Even as a volunteer, I feel like I learn something every time I come here. There's just so much history, so much to discover on campus."
When it comes to authentic Gullah cuisine, visitors don't have to look far — Gullah Grub, which has been featured in many documentaries over the years, sits directly across the street from the Gullah Geechee Visitor's Center.
"When I go, I might get something like fried shrimp and shark steak, along with red rice," said Hodges. "But if you really want to experience the culture, go on a Gullah Geechee tour or attend a festival, like the Gullah Festival on Memorial Day weekend, or just go into the community, speak with people, and learn."
Lowcountry Adventure
Although you don't have to be a hardcore nature enthusiast to enjoy a trip to St. Phillips Island (there is a beach, after all), if spotting and learning about wildlife is your thing, then this is a trip you won't want to miss. Departing from Hunting Island State Park Nature Center, Coastal Expeditions take visitors on a naturalist-led ecotour on a typical Tuesday/Friday/Saturday schedule (summer schedules are tidal dependent).
"Beaufort County, if we're looking at it from an ecological perspective, is 50% underwater — so it's got about 250,000 acres of estuary, and that's the most estuary of any town on the East Coast," said Claire Mueller, operations manager at Coastal Expeditions. "From that standpoint, it's just a really special place. It's mostly islands, which just means that there's a ton of opportunity to see a bunch of wildlife during the migratory season or all year round. But there's really something out here for everybody. We get a lot of kids in the summertime, and they love it. They go shelling and play out at the beach, so it's kind of like a kids' playground."

Owned by Ted Turner for 40 years, the 4,680-acre island was sold to the SC State Park service in a major conservation deal in 2017. Existing infrastructure is limited to trails, a guest house, and a few other additional structures, but a conservation easement prohibits further development. Once visitors reach the island, they board a tram and ride 3.5 miles to the beach. From there, visitors can shell, explore the boneyard beach, hike the interior island trails, spot wildlife, or simply bask in the sunshine.
Commonly spotted wildlife on this tour includes bottlenose dolphins, loggerhead sea turtles, indigo snakes, alligators, bobcats, and a myriad of bird species, including spoonbills, bald eagles, and painted buntings. Fox squirrels, brought to the island years ago by the Turner Endangered Species Fund, are also frequently seen.
Beaufort County Bonuses
Sands Beach, Port Royal
Cypress Wetland Loop, Port Royal
Spanish Moss Trail
Henry C. Chambers Waterfront Park
The Chocolate Tree (favorite of Tom Hanks)
Parris Island
Many of the visitors to St. Phillips Island are campers at Hunting Island State Park, home of thousands of acres of marsh and maritime forest, 5 miles of pristine beach, and the historic Hunting Island Lighthouse, built in 1859 and rebuilt in 1875.
"People are amazed because this lighthouse can be taken apart and put back together," said Lisa Montgomery, camp host and volunteer. "There are cast iron plates, about 1,200 pounds apiece, and they are bolted together. It was moved once already due to severe beach erosion — otherwise it would be underwater now."
For those who would like a bird's eye view of the area, Beaufort Biplane Tours offers 30-minute open cockpit flights above Beaufort and the surrounding islands. If you're afraid of heights, don't worry, you're in good hands. Owner Michael Rainey, a retired Marine aviator with over 40 years of flying experience, attended Top Gun, the famed Navy fighter weapons school. Fun Fact: Rainey's call sign was "Irish," as his father was born in Dublin.
"The plane is a 1943 Meyers OT, and there were 100 of them built," said Rainey. "There's four in a museum and two that are flying."
An unexpected highlight of the tour is Rainey's hangar, filled with his collection of flight jackets, modern helmets, a collection of WWI propellers and other historic memorabilia, and a pinball machine, bar, and a poster of Jean Harlowe.
Drinks & Dining
After a long day of sightseeing, there's nothing better than having a few drinks and a delicious meal to unwind — and in Beaufort, there are plenty of places to choose from. If you're into spirits, Rotten Little Bastard (RLB) Distillery offers tasting tours Tuesday through Saturday.
"We are a grain to glass distillery," said Steve Smiley, brand ambassador. "We source our grains from the Charleston area. On the tour you'll taste moonshine, vodka, a white rum, a gin, an American whiskey, and two bourbons. The bourbon and gin are customer favorites." Owned by Brian Fackrell, jokingly referred to as that "Rotten Little Bastard" by his mother, and his wife, Brigid, RLB's award-winning spirits can be purchased on-site or in certain liquor stores throughout SC. While you're there, be sure to greet the "boss" at the door — Juniper, the distillery cat.
If you're looking for an upscale meal in the heart of downtown Beaufort, Breakwater Restaurant & Bar offers delicious seafood, steaks, and other Lowcountry delicacies. Other downtown gems include Lowcountry Produce for breakfast, Plums Restaurant for a delicious lunch on the waterfront, and Lost Local for inventive tacos and tasty margaritas.
For a more laid back vibe, we highly recommend a visit to Shellring Ale Works, situated directly on the marsh in Port Royal, for some of the most beautiful sunsets you'll see in this lifetime (no exaggeration). After enjoying a cold brew and live music, wander next door to Fishcamp on 11th Street for more waterfront views and fresh seafood — a local best-kept secret.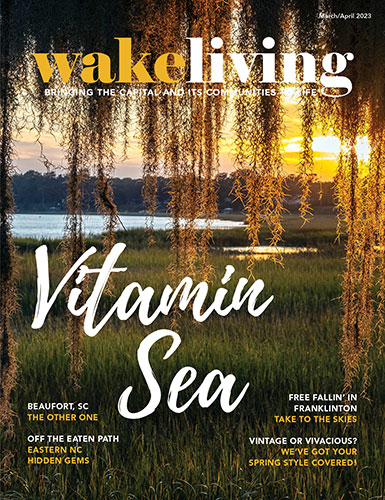 Beautiful Beaufort by the Sea