If you enjoy vintage and secondhand finds, Unorthodox Vintage in downtown Raleigh might be the Simon to your Garfunkel. Since its opening last June, this quirky establishment has been offering up an eclectic assortment of vintage and secondhand apparel with a mixture of street style, everyday wear, decade pieces, and local maker items.
Owners Alexandria Monet and Julian Jacobs started selling vintage to the public in 2020 with their individual brands — She Thrifty and Sir Chance's — before teaming up for the birth of Unorthodox Vintage.
"Julian and I became the support we needed for one another," said Monet. "We both still operate our individual brands outside of our downtown Raleigh storefront, but now we don't feel so overwhelmed in business."
Originally from Connecticut, Monet relocated to NC to attend the Art Institute of Raleigh-Durham, where she earned her degree in Fashion Marketing Management.
"I founded She Thrifty Apparel in May 2020 after learning more about circular fashion and the harmful impact of the fashion industry on the environment," said Monet. "I've also been a thrifter by choice since I was 14, well before it was considered cool. I've always been attracted to a different aesthetic in that way — it's truly a love, and my preferred way of expressing my way through clothing!"
Jacobs was one of the first vendors at the Pop-Up Shops at Martin Street in Raleigh. Following the opening of Unorthodox Vintage, he has since opened The Burrow, a vendor mall and creative space showcasing a diverse selection of handmade and local brands.
Want to know more? We reached out to Monet and Jacobs to learn more about our neighborhood vintage dealers.
Why is it important to shop vintage/secondhand?
Monet: It's important to shop vintage and secondhand because 98% of clothing is recyclable, yet only 15% of clothing is actually donated or recycled (according to the US EPA). This means that more than half of everybody's clothing is going directly into the landfill. We have an out of sight, out of mind mentality when it comes to disposing, and the issue with this is that we are being affected without even realizing it. Apparel does not break down easily — decomposing clothing releases harmful gasses like methane, which ends up in the air we breathe. Shopping secondhand diverts clothing from going into the landfill. By rewearing, recycling, and reusing, we can decrease these harmful impacts.
Jacobs: Buying secondhand is the most cost-effective way to shop! People tell me all the time that they wear their favorite vintage items more than something they buy that's brand new.
What do you hope Unorthodox Vintage brings to the community and its patrons, beyond clothes?
Monet: Beyond clothing, we want Unorthodox Vintage to feel like a safe space for creatives and the community. It's important to us to build relationships and experiences that become a good memory for someone. Through music, education, and events that we house in our intimate location, we plan to be that safe space and fuel our community with love and passion!
Jacobs: We want to bring a fun and lively vibe to shopping downtown. We want customers to feel like they're finding pieces instead of buying.
What is the best part of owning your business?
Monet: The best part of owning our business is truly being able to show up to something that is ours every day and building the life we desire through our shared passion. The most challenging part is the operations learning curve — business taxes and proper inventory counting. We are both newly learning and educating ourselves as we embark on this journey. Building a business is challenging in itself, and scaling your business is a challenge we are growing through!
Jacobs: Being your own boss! If you have a good idea, you can do it — there's not a person above you to say no. The most challenging thing is having to be "on" 24/7. Random fires happen, and you have to be ready to put them out.
Where do you source your inventory?
Monet: 90% of the women's inventory is hand sourced from different cities/states. I travel between two to four hours out weekly to find vintage goods! Other than that, I source on apps like Whatnot and with fellow vintage sellers.
Jacobs: Goodwill, Salvation Army, other vintage sellers local and online. I've even found a Carhartt jacket outside on Fayetteville Street!
Favorite pieces you've come across?
Monet: This changes for me weekly, but I love a good jacket! At one point we had a '90s Wilsons Leather suede fringe jacket, and it was perfect — literal rock 'n' roll gold. I'm so happy for whoever gave her a good home.
Jacobs: I found an early '90s Chicago Bulls Starter jacket in mint condition in Boone. My other would have to be my pair of SilverTab Levi's, my favorite pair of jeans.
Do you host any special events at the store?
Monet: We have hosted events in store, and we absolutely love doing so! We have found a lot of local talent that want to showcase themselves in an intimate, cool venue. Artists like Kate Rhudy and DJ Kino Del Sur, as well as others, have performed in the store for First Friday.
Anything else you'd like to add?
Monet: We plan on expanding in the future and serving the community with vintage + preloved goods for years to come!
Jacobs: Shop local and come check us out!
@unorthodoxvintage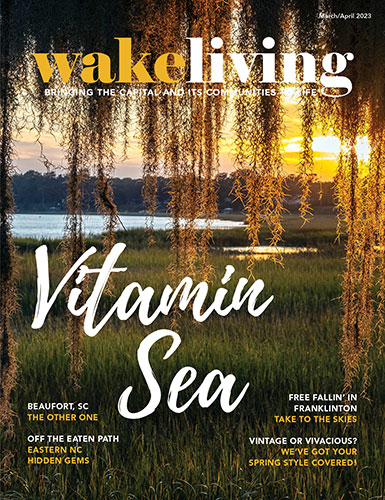 Small Business Spotlight: Unorthodox Vintage