I don't know about you, but I am a proud North Carolinian. This state has so much to offer! It's filled with beauty, adventure, great food, THE PEOPLE, and some unforgettable attractions and travel spots. From the beaches to the mountains, we have it all.
When you do a Google search for the best family vacations, the Great Smoky Mountains National Park is sure to pop up. It's the most visited attraction in North Carolina with more than 12 million annual visitors, and it's a must-see. If you've recently moved here, to be an official North Carolinian, you must visit the mountains, one of our beaches, and choose a local sports team between Duke, UNC, and State. I'm only kinda kidding on that last part, but you do want to experience a North Carolina tailgate.
It fills my heart to look back on my family's recent adventures. Even if time and finances aren't always on your side, there's still plenty to do. Some of these gems may not show up in your next Google search, and several can be done in a day trip.
Roadside Attractions
Roadside America is my favorite app that I've been using for at least 10 years now. It's perfect to up the adventure on your next road trip. It shows you random roadside attractions that you would have never known existed. For example, in NC, it shows you maps to Vollis Simpson Whirligig Park, the Andy Griffith Museum, the World's Largest Ten Commandments, the world's biggest chest of drawers, and more. It's worth the download and a few bucks for access. roadsideamerica.com
Busco Beach and ATV Park
Wear something you don't mind getting dirty, pack a few snacks, and hit the dirt. They have 1,800 miles of riding trails (with mud holes), and many bring their own ATVs and dirt bikes. They offer rental options, too, but call ahead. We made a day trip out of this, and the kids had a blast. You pay an entrance fee when you arrive, and kids 5 and under are free. They often have a food truck on site, but I recommend packing some food to pull over and take a break. Many choose to camp overnight! buscobeach.com
Freeman Park at Carolina Beach
One of Carolina Beach's major attractions and one of the only beaches in NC that you can drive your 4X4 vehicle on. We decided to rent a four-passenger side-by-side, which is road safe and great to drive on the beach. It was fun! We drove all over and even swung through a drive-thru for my kids' amusement. wilmingtonadventures.com
Lazy 5 Ranch
I've never laughed so hard as I did at this drive-thru animal safari in Mooresville. Our family is making another trip soon. You may want to rent a car for the day, as the animals are very close and sometimes stick their heads in the car as you feed them. For all ages and truly the best fun. thelazy5ranch.com
Paraclete XP Indoor Skydiving
This indoor skydiving adventure in Raeford is America's largest indoor skydiving wind tunnel! If you've ever wanted to jump from a plane, but aren't quite there yet, this is for you! Kids are welcome, too! paracletexp.com
Oconaluftee Indian Village
When you head to the mountains, take some time to visit Cherokee. Often, people drive past not realizing what a gem this place is. Go back in time to the 18th century to see what life was like for the Cherokee. Experience a guided tour for a greater understanding of Cherokee art and way of life. cherokeehistorical.org/oconaluftee-indian-village
Beachside Bikes
If heading to Atlantic Beach, no matter the season, rent a bike, scooter, or boat! We frequent this company in the summer months, but they are open year-round. beachsidebikes.net
Flyboarding
Ever wanted to try hoverboarding over the water? Now you can! We found a company in Charlotte, and my husband and I both tried it. We were nervous at first, but once you get the hang of it, it's great! You will have folks stopping to check out the action. This is typically a warmer weather activity, so add it to your bucket list. carolinaflyboard.com
Swimming with Sharks
I was proud of myself doing this adventure. My husband jokingly said he was staying ashore with the kids in case something went wrong. It was scary and incredible all at the same time. My experience took place 3 miles out to sea in Florida, so I started looking for an experience closer to home. The North Carolina Aquarium on Roanoke Island offers experiences with sharks. Divers enjoy a 285,000-gallon Graveyard of the Atlantic exhibit, home of the largest shark collection in NC. Swim with sharks up to 10 feet and many other types of fish. ncaquariums.com/roanoke-island
Even as a North Carolina native, I still haven't experienced everything the state has to offer, but I'm working on it. What spots do you and your family enjoy? Reach out and share @EricaDeLong.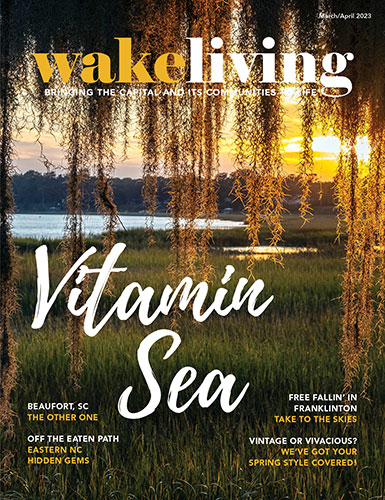 Erica Chats: Plenty to See in NC