Sometimes a simple meal at a humble place is good for the soul.
What better time than fall to expand your horizons and try some of the best no-frills restaurants our state has to offer?
Over the course of two days, we ventured out to eastern North Carolina and then headed south to the coast to visit six notable hole-in-the-wall eating spots. There were drive-ins. An old-school diner. Iconic establishments that have stood the test of time. Read on to discover what food reigns supreme, who's dishing it up, and why each place is so doggone special.
Flo's Kitchen
Wilson, NC
A breakfast mainstay for more than 30 years, Flo's Kitchen in Wilson opens five days a week before roosters even think about crowing.
"Cars are lined up around the building when we start serving at 4 a.m.," said manager Terri Raper, a spunky straight shooter who oversees a hardworking all-female crew.
People come for the scratch-made biscuits — each as big as a cat's head — filled with protein like pork tenderloin, bacon, link sausage, and chicken. Order a hobo biscuit, and you'll get eggs, sausage, and cheese scrambled together and stuffed inside fluffy buttermilk goodness.
"We're also known for our cheese biscuits with sharp cheddar mixed into the dough before they are baked," Raper revealed.
Visit on Wednesday for the local favorite sweet potato biscuits.
Fresh biscuits are created throughout the day by dedicated ladies like Dianne Lamm, who for more than three decades has arrived at 12:30 a.m. and stays until closing.
"I cook ham and fatback and get the water going for grits," Lamm said during a smoke break around 8 a.m.
Prefer a breakfast plate instead? Omelets, pancakes, and French toast also are available.
Flo's is a takeout- and cash-only eatery open Tuesday through Saturday until noon. Friendly staffers take orders near the front of the building or at your car window. Be prepared to hear a term of endearment like "honey," "shug," or "baby" during your visit. It's a great way to start the day — even if it's at an ungodly hour.
1015 Goldsboro St. S., Wilson
(252) 237-9146
B's Barbecue
Greenville, NC
How do you know when a barbecue outpost is the real deal? When it sits on a road named after it.
If you're looking for gold-standard pit-cooked pork and chicken, you've arrived at the Promised Land in Pitt County. B's is listed among just 20 swine-centric institutions on the North Carolina Barbecue Society's "Historic Barbecue Trail." The restaurant began in 1978 when longtime farmer Bill McLawhorn hung out a shingle.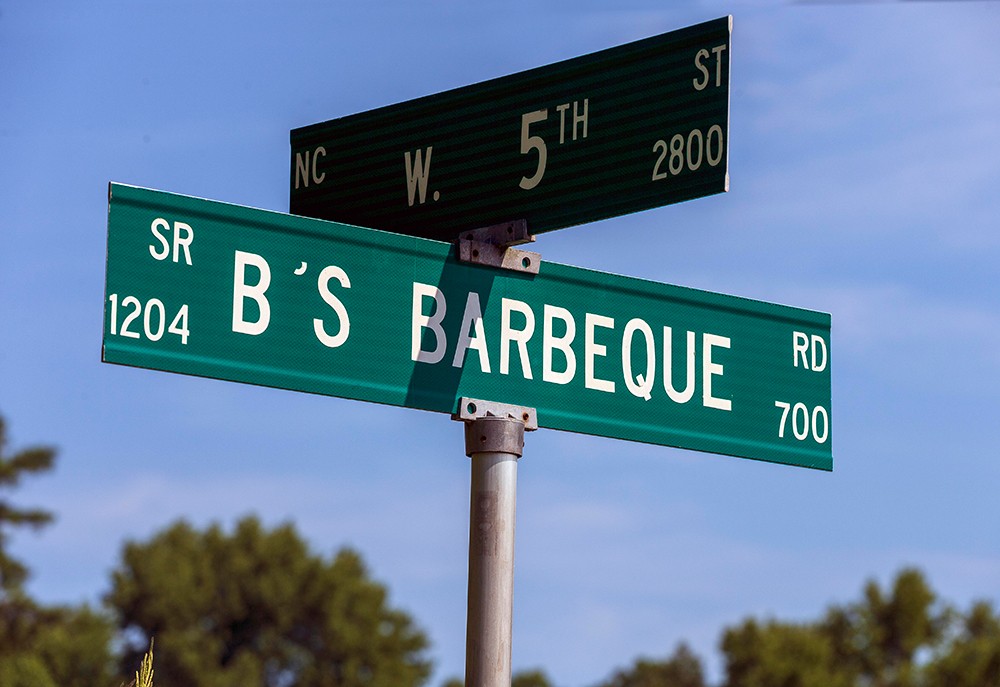 Starting around 9 a.m., a mixture of blue- and white-collar clientele pull into the gravel parking lot and begin queuing up outside a window where orders are taken. Ever since the recent pandemic, B's has shifted to takeout only.
"We average selling anywhere from five to six hogs a day," said Tammy Godley, a good-natured woman who runs the operation along with her sisters Judy Drach and Donna McLawhorn — all daughters of the founder.
Many customers come for an Eastern-style chopped pork sandwich topped with creamy coleslaw. Others opt for a pork or barbecued chicken plate with side items like boiled potatoes, green beans, and corn sticks.
The meat is smoked over Kingsford charcoal in a pit situated just a few steps behind the restaurant. The day we visited, it was so hot the devil himself would have asked for a cup of sweet tea.
"I get here at 6 o'clock every morning to cook the chickens," said gregarious Greenville native Arthur House, who has worked at B's for over 17 years.
Take a seat at one of the tree-shaded picnic benches, open the Styrofoam clamshell, and enjoy the food while it's still hot. Chances are good you'll strike up conversation with other barbecue enthusiasts while you eat.
A cash-only spot, B's is open Tuesday through Saturday from 9 a.m. to 2:30 p.m. (or sooner if the food runs out).
751 B's Barbecue Road, Greenville
(252) 758-7126
Bill's Hot Dogs
Washington, NC
Folks in and around the historic waterfront town of Washington have made a ritual of visiting this legendary hot dog joint ever since it opened back in 1928.
Almost everything about the Bill's experience is vintage, from the screen door that slams shut upon entry and exit to the assembly line of workers serving up each dog with precision.
Order your hot dog all the way (trust us). This involves a deep-fried pork frankfurter and a steamed bun with Sauer's mustard, onions, and an inimitable white bean chili made from a top-secret recipe.
"We can sell up to 800 hot dogs on any given day," said proprietor Jay Boyd while taking a break from making chili. "Most people get two or three hot dogs each when they order."
One gentleman standing in line said he drove all the way from Nashville, NC, more than 60 miles away.
Regular patron Teresa Grooms indicated she has been coming to Bill's for nearly 60 years.
"I usually get two hot dogs all the way with extra onions," she said with a smile while clutching her brown paper bag like it was filled with gold.
Bill's is takeout-only and open 8:30 a.m. to 5 p.m. Monday through Saturday. It does accept credit cards. Grab a bag of potato chips, a Moon-Pie, and glass-bottled Pepsi before you go.
Word to the wise: Don't just eat in your car. Step across the road, find a bench, and enjoy the serenity of the Pamlico River while you try not to spill chili on your shirt.
109 Gladden St., Washington
(252) 946-3343
El's Drive-In
Morehead City, NC
Started in 1959 by El Franks, this family-owned and operated landmark is beloved for its simple, consistently delicious hamburgers, hot dogs, and shrimpburgers.
Cars and trucks start lining up in the parking lot by 10:15 a.m. Seasoned waitresses emerge from the modest brick building, briskly walking to each vehicle and jotting down orders.
Don't miss the signature El's Superburger featuring 5 ounces of perfectly seasoned beef with mustard, chili, coleslaw, and onions. The cheeseburger version includes a slice of American cheese.
"We use top ground Braveheart beef, and we hand-patty the burgers each day," said owner Mark Franks, the founder's son, while cooking on a Friday at lunchtime alongside his son, Shelton Franks.
Another surefire winning option is the shrimpburger brimming with lightly fried shrimp along with homemade slaw and Hunt's ketchup.
"People think we use some kind of special sauce, but it's just the way the ketchup and the slaw mix together," Franks explained.
Loyal patrons come early and often.
"My husband and I were married for 41 years before he died, but we came here to El's on our first date," said Gail Parish of Newport, NC, as she waited for her Superburger to arrive. "This is a special place."
Savor your meal at a wooden picnic table shaded by mammoth oak trees. While you're there, watch seagulls flock to the parking lot or perch atop the restaurant building's sign. It's all part of the magical El's experience.
3706 Arendell St., Morehead City
(252) 726-3002
elsdrivein.com
4 Corners Diner
Atlantic Beach, NC
If you're looking for a solid breakfast-served-all-day option at the beach, 4 Corners Diner covers all the bases.
Appropriately casual and family friendly, the no-frills, full-service café has Formica tables, fluorescent lights, and a black chalkboard menu. But it's the reliable comfort food that draws a crowd.
Co-owner Anita Young runs the business along with her friend Jess Watkins. Several of Young's family members also work alongside her, including sisters Ruby and Rita and daughter Amy.
"I worked here as a cook before becoming part owner, and I still spend lots of my time in the kitchen," the softspoken Young said with a smile.
Popular "eggs n' omelettes" selections are served with proper (translated: not runny) grits or home fries and toast or a biscuit. Whether you choose scrambled eggs with bacon or a Western omelet stuffed with ham, cheese, peppers, onions, and tomatoes, you can't go wrong. Be sure to try the scratch-made hot sauce.
Order a waffle and crown it with chocolate chips, pecans, or a fruit topping.
If you're exceptionally hungry, go with the 4 Corners Special, which involves two eggs any style; three pancakes or three slices of French toast or a waffle; and bacon, sausage, or ham.
"I come here every day, and the people are really nice," said longtime customer John Hughes as he looked up from his morning newspaper. "My favorite breakfast is the corned beef hash and scrambled eggs."
Lunch items are served after 11 a.m. daily. Choices abound including soup, salad, a Reuben sandwich on rye, a hot roast beef plate, and a fried fisherman's platter with vegetables.
4 Corners Diner is open daily from 6 a.m. to 3 p.m.
100 E. Fort Macon Road, Atlantic Beach
(252) 240-8855
4cornersdiner.com
Big Oak Drive-In & Bar-B-Q
Salter Path, NC
Located in the Bogue Banks hamlet of Salter Path between Atlantic Beach and Emerald Isle, Big Oak is known for its walk-up window and its mouthwatering-good burgers, barbecue, and seafood offerings.
Tempting ocean-centric choices include the crabcake, oysterburger, scallopburger, clamburger, flounder, and even a softshell crab sandwich.
But it's the showstopper shrimpburger that has won legions of devotees. The quintessential sandwich features superb fried shrimp, tartar sauce, coleslaw, and ketchup.
"I've been coming here for more than 20 years, and it's the first place I visit when at the beach," said Wanda Harrelson, from Raleigh. "I'm telling you, the shrimpburger — there is none other any better."
Smoked chopped pork barbecue is also first-rate. Consider a barbecue take-home pack with a pound of pork, a pint of slaw, and a dozen golden hushpuppies.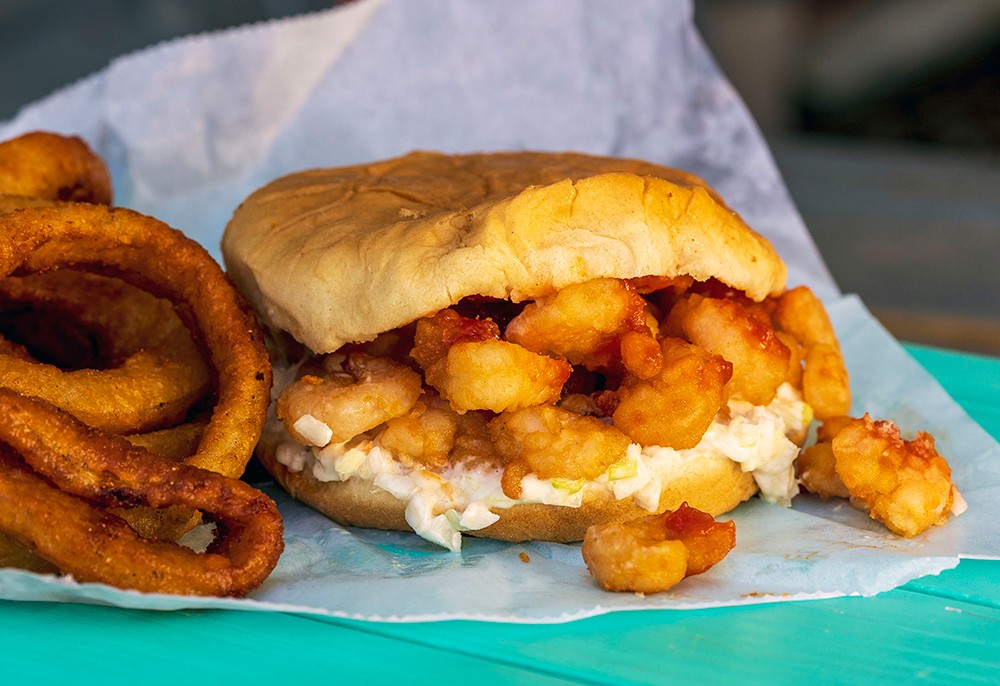 Be sure to order a side of delectable beer-battered onion rings.
"People really like the fried dill pickle chips as well," said manager Jamie Godfrey. "We also make homemade ranch dressing."
Closed Mondays, Big Oak opens Tuesday through Sunday at 11 a.m. (closing hours vary). To save time and avoid waiting in line, call ahead and place your order by phone.
1167 Salter Path Road, Salter Path
(252) 247-2588
bigoakdrivein.com