As a stay-at-home father to three children, Lue Chen, of Cary, sometimes felt overwhelmed in how best to raise them.
Seeking programs to help him become a more effective parent, he found SAFEchild in 2019 and attended his first parenting program. This year, he completed a second program, Circle of Security, with the Wake County-based nonprofit.
"I now have the knowledge to identify the children's needs, the language to name them, and tools to help them," Chen said. "After completing both programs, I now understand my children better. More importantly, I understand myself better."
While SAFEchild's acronym, Stop Abuse For Every child, indicates its mission to prevent abuse before it happens, the parents who attend many of its programs are often just like Chen: a little overwhelmed and with a desire to do the best they can for their children and themselves.
SAFEchild's services are for all parents, committed to stopping abuse before it starts and to simply providing support to new parents navigating the early years of parenthood, said Cristin DeRonja, executive director of SAFEchild.
"Those of us that are fortunate enough to bring children into this world in whatever way that is, whether it's through birth or through adoption, we don't get an operator's manual," she said.
The Wake County nonprofit was born out of research conducted by the Junior League of Raleigh in the early 1990s, exploring where gaps existed in support services for children and families, DeRonja said.
While law enforcement, child services, and the courts dealt with cases of abuse and neglect, no organization focused on prevention, nor were there groups supporting new parents with educational programing, DeRonja said.
"We meet parents where they are and provide support," she said.
That's done through a number of programs, including Moms Supporting Moms, which offers postpartum support and mentoring to new mothers and their families through baby's first year of life.
The program Chen most recently participated in, Circle of Security, focuses on supporting families with children from newborn to age 5 when, DeRonja notes, so much critical growth, change, and development happens. The organization offers programs in Spanish for native speakers, as well as a course for men. Each of these curriculum-based programs lasts 10 to 13 weeks.
"Each of our programs is structured with a very proactive, preventative, supportive framework," she said.
The Funny Tummy Feelings program, found in all Wake County public elementary schools, as well as some charter and private schools, is also a SAFEchild initiative.
"That program helps children understand their emotions, both pleasant and unpleasant," DeRonja said. "We talk to them about what to do when they have a funny tummy feeling because of something that's happening or something they're being asked to do.
"We help them understand how to say no, and how to share bad secrets to get help."
Beyond its preventative programming, SAFEchild supports families who have struggled or have risk factors, such as previous reports to child welfare or law enforcement.
"We work in collaboration with those groups," DeRonja said. "Going to jail isn't going to help parents understand healthier and safer ways to discipline children."
Instead, SAFEchild helps them find the tools and information that they were not equipped with, she said.
"There are reasons families are required to work with us," she said. "They do have the ability to be a nurturing, appropriate parent for their child — they can't always do that on their own."
In fact, SAFEchild created a children's advocacy center 13 years ago to support those parents, and to support families and children who have been victimized.
The center coordinates the evaluation, investigation, and treatment of many child abuse cases in Wake County. One important outcome, DeRonja says, is that a child now only has to tell his or her story once.
Where in the past, that child would likely tell their story many times to a trusted adult, law enforcement, child services, and so on, they now talk to one person at the advocacy center, who then shares information with the other parties involved. This means less trauma for the child, she said.
SAFEchild's numbers say a lot. Its 2022 Impact report showed the Funny Tummy Feelings Program reached more than 15,000 children. SAFEchild also provided more than 11,000 hours of parent education and support.
Wake County's population has tripled since the organization was founded, and DeRonja said they're working hard to keep up. The growth caused wait times for families who wish to receive services from SAFEchild, and DeRonja wants to see that end.
The organization undertook a major capital campaign to build a 20,000-squarefoot building, to be completed this year, that will bring all its services under one roof in a space that is intentionally designed for its programs, DeRonja said.
To learn more about SAFEchild, register for a parenting program, or to support the organization, visit safechildnc.org.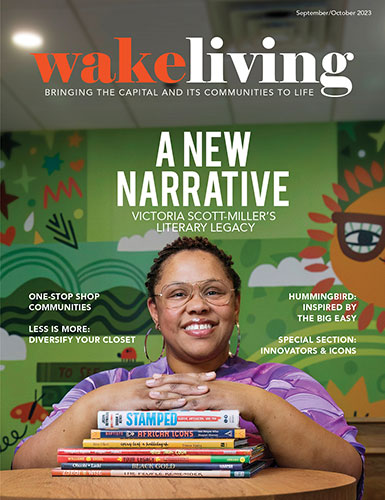 Pay it Forward: SAFEchild