Following the pandemic, a lot of things have changed — including the way we live, work, and play. According to data from Yardi Matrix, published by RentCafe, the race to build "vertical villages" began in 2020. By 2021, 43,700 live-work units were completed, compared with 10,000 a decade earlier.
So what's the appeal? For a growing population, particularly millennials, these master-planned, mixed-use communities are a one-stop shop — a way to live, work, dine, shop, and have fun without ever leaving the building or getting behind a wheel.
"Mixed-use developments can lead to a more vibrant and lively neighborhood, fostering social interaction and community bonds," said Josh Dix, principal with Trammell Crow Company and High Street Residential. "In light of growing awareness about climate change and the environmental impact of human activities, there is a push to reduce carbon emissions and promote sustainable living. Mixed-use developments help reduce our reliance on cars, promote walking and cycling, and make more efficient use of our infrastructure."
Raleigh is a national hot spot when it comes to growth — according to Our Town America, at least 5,000 new movers arrive in the Triangle each month. As a result, mixed-use communities are popping up everywhere — and if you think they are are contained to big-city high-rises, think again. Communities like The Exchange, 400H, and Raleigh Iron Works (RIW) incorporate greenways, entertainment venues, water features, and much more — all intended to bring recreational and cultural opportunities directly to residents' doorsteps.
The Exchange
The Exchange, developed by Dewitt Carolinas, can be summed up in just a few words on their website: "Welcome to Raleigh's future."
We recently took a tour of 1000 Social, a 12-story office tower at The Exchange with sweeping panoramic views of the city and surrounding area. The tower — which will soon connect to its sister building, 2000 Social, via a sky bridge — sits at the intersection of technology and nature, adjoined by 4 acres of natural landscapes and greenways.
"Most mixed-use developments are anchored by a million square feet of retail space, so the experience is often congested and transactional in nature," said Steven Beattie, executive vice president at Dewitt Carolinas. "At The Exchange, the entire community is centered on a highly amenitized 4-acre park. This park is the heart of the development, and every building opens onto the expansive green space."
Beattie says the goal is to offer a "curated selection of restaurants, cafes, and specialty services that complement our development's focus on health and wellness." In other words, The Exchange hopes to bring enrichment and balance to people's lives.
"The environment at The Exchange is experiential rather than transactional, so this won't really be the place where you max out your credit card and stuff your trunk with shopping bags," said Beattie. "Instead, it will be the place to grab a coffee and let your kids play in the grass, hop off the biking trail for a beer, share a healthy lunch with a colleague under the shade of the preserved trees, or enjoy a fine-dining meal with your significant other at a table in the park."
Living space will consist of multifamily apartments and condo projects, offering a range of living options for everyone from young professionals to executives to empty nesters.
"Our master plan calls for a mix of low-rise and 20-story high-rise options that will be competitive with the surrounding market and best in class," said Beattie. "We are currently in design with a 20-story multifamily concept that is slated to break ground in 2024. This building will sit at the top of the park looking down the entire development, and will feature a very large amenity deck on the seventh story looking over the park."
In terms of amenities, the list is extensive and constantly evolving. In addition to everything you'd expect to find in a high-end development — pools, game rooms, fitness centers — The Exchange will also offer EV charging stations, cold storage for DoorDash and grocery delivery, bike and kayak storage, on-site concierge services, and even dry saunas and cold plunges for hot/cold therapy. The space has also been designed to accommodate a multitude of events, from outdoor movie nights to concerts, art festivals, farmers markets, fitness events, and more.
"When we talk about providing a best-in-class multifamily living experience, that doesn't just mean top-of-market amenities and high-end finishes. To us, it also means thoughtful design that really makes the residents' lives better," said Beattie.
"At The Exchange, we're focused on incorporating design elements that will make apartment living function more like home (without the maintenance and upkeep of a single-family property). If you want to host a large dinner party, you can reserve the private dining room with a fully equipped chef 's kitchen. If you need to work from home, it is seamless with on-site private office suites equipped with high-speed connectivity. If you need to let your dog out in your PJs in the morning, there is a dedicated fenced in area right off of the elevator. And of course, residents at The Exchange will have the biggest amenity of all just outside their doors: a 4-acre park that will serve as their backyard."
400H
Located at the nexus of the Warehouse, Glenwood South, Capital, and Fayetteville Street districts of downtown Raleigh, 400H seamlessly blends office, retail, and residential space for those looking for a vibrant and convenient lifestyle.
"With over 100 food, beverage, and entertainment options located within walking distance, 400H is the perfect destination for anyone looking to explore new experiences and pursue existing passions at all hours of the day with the convenience of energetic urban living," said Dix. "The opening of 400H this fall comes at a time when both office users and urban residents alike are adapting to changing work cultures and shifting lifestyles. 400H is designed to encourage workers to return to the workplace and offer employers the amenities that may tip the scale when pursuing the best talent in the market. The project leverages both its robust amenities and retail plan, as well as a well-established neighborhood, known for its dining and entertainment offerings."
400H's ninth floor Skyhub offers a well-equipped fitness center and yoga studio, a conference /coworking space, a social space with a catering kitchen, and an outdoor terrace. Residents can also visit the penthouse on the 20th floor, which features a lounge and wine bar and terrace views. 400H currently houses Press, a European-inspired coffee house offering fresh coffee, cocktails, and crepes — and more future tenants will be announced soon.
"400H will offer 242 high-rise apartment homes with floor plans that include studios, one- and two-bedroom layouts, along with a selection of two-bedroom units with den," said Dix. "Residential units are all located between the 9th and 20th floor of the building, which allows each unit to benefit from the spectacular views of downtown Raleigh and the surrounding area. We're excited to offer an urban community that is truly unencumbered by any blocked views!"
Work-life balance is more important than ever, and the benefits of having residential, professional, and recreational offerings in proximity cannot be ignored.
"400H is now pre leasing for our first move-ins in October 2023," said Dix. "Please reach out to the community for leasing information at 400H@greystar.com."
Raleigh Iron Works
"Restoring the past and forging the future." That is the motto behind Raleigh Iron Works, a mixed-use development designed to breathe life into the Iron Works District and connect Raleigh's history to its future "through innovative, curated, and dynamic spaces."
RIW is located on the formerly industrial stretch of Atlantic Avenue — directly across the street from Dock 1053, home to Lynnwood Brewing Concern, Pinetop Distillery, Hummingbird restaurant and bar, and more. It is a joint venture of local development group Grubb Ventures and design-focused global real estate firm Jamestown, known for Ponce City Market in Atlanta and Chelsea Market in New York.
"The property brings together restaurants, residences, office space, and entertainment venues, while maintaining a community-centered feel," said McKenzie Wilson, director of commercial leasing. "We've curated the retail to include local concepts, ensuring the overall vibe is fundamentally Raleigh. We've interwoven playful elements, from a slide to a hidden courtyard, along with swings and readapted elements to create surprise and delight moments throughout the property." As for what's already there and what's coming, there's plenty to share.
"Eastcut Sandwiches opened earlier this month and has received positive feedback from the community," said Wilson. "FX Fitness, a private training facility focusing on adapting to each client and their individual level of fitness, opened earlier this year, Andia's Ice Cream, a USA Today award-winning ice cream shop out of Cary, is now open. Beatniks, a new men's clothing concept aiming to introduce Raleigh to new streetwear styles and brands, will be opening this fall, filling a much-needed gap in menswear offerings. YoBa Studio, a combo yoga and barre studio offering everything from infrared studios to beat-driven cardio, will be opening later this fall."
In addition to its 170,000 square feet of creative office space, Forge at RIW offers a mix of living options.
"With 219 units ranging from micro, studios, one- and two-bedroom floorplans, Forge caters to an active lifestyle and offers space for creators, thinkers, and doers with industrial-inspired features and thoughtfully designed spaces," said Wilson. "Forge at Raleigh Iron Works will also feature first-to-market Ori Studio units offering convertible living options."
When it comes to amenities, Forge includes a state-of-the-art gym with fitness trainers, on-site catering to residents, a custom arcade bar space featuring vintage arcade games, a resident lounge with built-in beer taps, a saltwater pool, custom coworking spaces, and designated Luxer package lockers. RIW will also offer a host of activities and events in the coming years, including the Raleigh Is Growing Fashion Fest, a mix of pop-up offerings, live music, and more.
"Raleigh Iron Works is committed to community-centered placemaking, and we're looking forward to seeing the property come to life over the next year," said Wilson.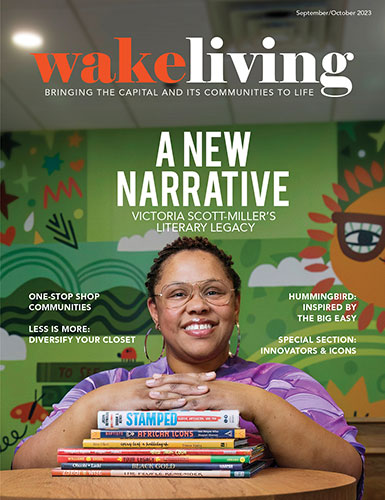 The Rise of Live, Work, Play