Confession Time: Fall is my least favorite season.
Most of my besties love fall, and odds are you do too, so don't come for me! I've struggled to embrace fall because I'm obsessed with the warm weather and cute dresses of summertime. Fall fashion always felt frumpy to me.
My attitude has changed over the years as I've embraced different styles and trends have evolved. Now I'm pumped to throw on a pair of jeans and a cozy sweater this season.
Crimson red will be the "it color" this season, with all shades of red upping the heat as the temps cool. Romantic lace, leather (or pleather) on leather, tailored suits, jewel tones, and preppy vibes are also on my fall fashion to-do list.
Speaking of fall fashion, throw those old-school rules out the window. You can absolutely wear white after Labor Day. And open-toe shoes are totally acceptable on those warmer days, too.
Sydney Jarrell, co-owner & chief operating officer of The Gatorbug Boutique, gave me some insight: "This season we will have a lot of everyday livable looks. There will be tons of colors worked in with neutrals. Lots of sweaters, sweater dresses, denim options, and layering pieces!"
Here's my thoughts on must-have staples to stock your fall closet — whether you love or hate the season.
COZY KNITS
When I think of fall, a cozy sweater and pumpkin spice are the first things that come to mind. Opt for oversized cable-knit cardigans or chunky turtlenecks to keep you warm and stylish. Pair with tailored trousers or pleated skirts for a balanced and fashionable look, perfect for both office wear and casual outings. Or copy my cozy and comfy fall favorite by throwing a sweater on with your staple leggings and booties.
STATEMENT OUTERWEAR
Don't be shy with your wardrobe! Embrace bold patterns and textures. Look for plaid, houndstooth, or animal-print blazers, trench coats made from glossy materials, or faux fur jackets with vibrant hues. Eye-catching pieces will instantly elevate your outfit. Channel your inner Carrie Bradshaw.
PRINTED DRESSES AND JUMPSUITS
Comb through your closet because you likely have some pieces in your stash that you can revamp. Opt for floral, polka dots, or abstract patterns. Consider mid-length dresses or wide-leg jumpsuits. Have fun with it!
FUNCTIONAL FOOTWEAR
Functional footwear doesn't mean boring footwear — fall has lots of options that are comfy and stylish. Think ankle boots with chunky heels or lug soles, Western-inspired boots, or sleek kneehigh boots. I love a great pointy-toe heel, but if I'm being honest, it feels impossible to walk in them some days. You can never go wrong with booties or knee-high boots. Pick neutral colors to pair with everything.
ACCESSORIES WITH A PURPOSE
Make your accessories do double duty this fall — think bold and purposeful. Invest in statement belts to cinch your waist and add definition to oversized outerwear or flowy dresses. Chunky chain necklaces, statement earrings, and oversized sunglasses also pair well with fall — and don't forget to add a wide-brimmed hat.
VERSATILE LAYERS
"Fall" means lots of things in North Carolina, and the temp can swing like crazy within a few hours. Layering is crucial for a stylish fall outfit that won't leave you shivering or sweating.
Honorable mentions go to all things jean: a jacket, skirt, romper, or just your favorite pair. And high-wasted leggings will always be a seasonal staple!
The best part about these fall staples is you can find pieces everywhere. I love shopping from local boutiques like The Gatorbug (shout out to my girls, Catherine and Sydney), but big-box retailers (think the stores where you can also pick up wine and ingredients for dinner) have some gems too!
Go bold, be proud, and be sure to tag me in your latest fashion creation @EricaDeLong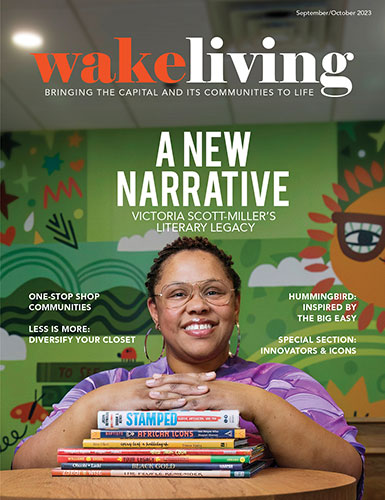 Erica Chats: Finally Feeling Fall