In English class, we were taught that a story needs all of the following: plot, conflict, character, setting, and theme. A good story needs a bit more: a hook, an engaging voice, dramatic content, and memorable characters.
Allow me, dear reader, to tell you a great story.
37 years ago, Victoria Scott-Miller — founder and owner of Liberation Station, North Carolina's first Black-owned children's bookstore — was born in Memphis, Tennessee. As a Black child raised by a single mother in the South, many would have liked to put Scott-Miller in a box, neatly defined by racial, cultural, and socioeconomic stereotypes that she would likely never overcome. As it turns out, there was never a box for Scott-Miller — only endless opportunities and unlimited potential.
"It was a very loving home, one that was exposed to many different parts of culture," said Scott-Miller. "We always had books around us. My mom was the first one to introduce me to Nikki Giovanni, a prolific writer of poetry, which began my love of reading. I also grew up in the Memphis County school system, so I was exposed to a lot of Black educators very early on. One of my teachers was a voiceover actor on the side, so I always grew up seeing this duality in the people who were living these experiences, which I thought was beautiful. It showed me that I didn't have to just choose one thing; I could kind of do it all."
Success runs like a twisting vine through the lives of all of Scott-Miller's relatives: her sister an entrepreneur in the food industry; her mother a public servant for over 30 years; her father a well-traveled photographer; her grandmother a writer and one of the first Black nurses to graduate from the University of Memphis; her Aunt Daphne a fun and hyper-creative flight attendant who would send her nieces Toblerone bars from Switzerland and chocolate-filled pandas from Japan.
Creatively speaking, the apple didn't fall far from the tree. Scott-Miller began writing in third grade and developed a strong interest in spoken word poetry as she got older. In high school, Scott-Miller found herself rejected by her college of choice. In the midst of a self-described "college slump," she decided to write one of her biggest literary inspirations, Nikki Giovanni — and to her surprise, she heard back.
"I have her letter framed, and I keep it with me at all times," said Scott-Miller. "Our paths would cross all throughout my adulthood. She would continue to pop up throughout my life as a universal reminder that you don't have to hide your brilliance. And that was a big marker for me — like if she says I'm good, I'm good." During her time at Middle Tennessee State University, Scott-Miller first met her husband, Duane Miller.
"I met my wife during college while the two of us performed spoken word," said Miller. "I remember bringing my mother and saying, 'I'm going to marry her.' Her performance was energizing, and at 20 years old, I knew I wanted her in my life."
Six months after their first meeting, the two secretly eloped — celebrating with petite vanilla scones and apple cider from Starbucks. Once the news was out, Scott-Miller's mother threw them a Hawaiian-themed backyard pool party — never guessing that the couple would call Hawaii home only four years later.
"Duane would join the military as a nuke, which was a nuclear engineer on a submarine," said Scott-Miller. "That took us to Charleston, SC, for 2 ½ years for training. I would unexpectedly get pregnant while we were in Charleston. We had our oldest son, Langston, and four months later we got shipped to Hawaii."
Six years later, Miller was ready to retire from the military and Scott-Miller found herself pregnant with their second son, Emerson.
"We always said our children would be named after the writers who have influenced our lives the most, which were Langston Hughes and Ralph Waldo Emerson," said Scott-Miller. "We had talked our children up before they were even born, and we knew that we wanted them to come into the world with names that would automatically give them respect before they even walked into a room."
Ready to leave Hawaii, the young family put a finger on the map and decided that wherever it landed would become their new home.
"It landed on Raleigh, NC," said Scott-Miller. "We didn't know anyone. I think Hawaii had taught us so much, because we didn't have family there either, but it taught us that we could make it anywhere. Emerson was born in NC, and soon my husband would be on a search for a job and not really able to find anything."
What followed was several years of living off Miller's disability income with two children while trying to figure out the next best steps. During that time, Scott-Miller's father passed away. Her mother, who had been sorting through her father's things, handed her daughter some old papers, stored in ziploc bags.
"These papers turned out to be handwritten letters between Nathaniel Knight — a white bookstore owner in Fells Point, Baltimore, and a justice of the peace at the time — and Frederick Douglass," said Scott-Miller. "We were like, oh my God! We started doing research, talked to historians, and finally we met someone affiliated with an Ivy League, and they offered us right around $2 million. All of this is happening while we are unemployed, with two children, and on SNAP benefits."
Despite the temptation to cash in, their family decided to take the road less traveled. "My husband said no, let's see what we can do with what we have — and at the time, we literally had only $200-$250 to our name."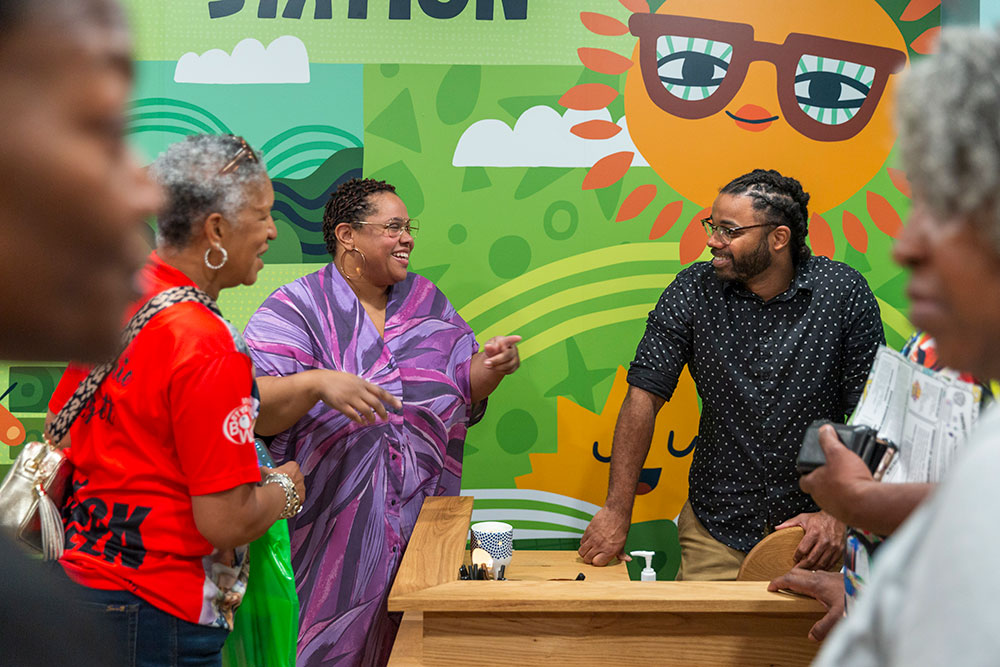 It would not be until 2019 that the opportunity presented itself to open their bookstore, Liberation Station.
"Langston was at a point in his life where he was wanting to write stories," said Scott-Miller. "That's kind of where our whole journey began, trying to figure out what he would need in order to publish a book and get it on a shelf. That curiosity led to opening a bookstore."
Using what little money they had, they purchased books — featuring and authored by people of color — from a discounted website.
"When it comes to diversity in children's literature, 57% of picture books are representing white children, 20% of that is representing animals, and 11% represents Black children," said Scott-Miller. "Out of that 11%, only 3% are created, written, and illustrated by authors of color."
Liberation Station committed itself to making representation accessible and amplifying Black voices. Success on a national scale soon followed. Serendipitously, a writer for The Washington Post just so happened to be in the lobby of The Durham Hotel during one of Liberation Station's storytimes.
"We were expecting maybe 25 people at storytime, and we had hundreds. She was just grabbing coffee," recalled Scott-Miller, laughing at the memory. "Good Morning America eventually flew down and had a conversation with us and our children. I think the national press came before the local press just because there was a national conversation surrounding equity."
Juneteenth 2023 marked the grand opening of Liberation Station's first brick and mortar location in downtown Raleigh, the perfect space to foster literary citizenship via curated programming.
"This was a love letter for my husband and me, but it's also a classroom for our children to be able to see themselves and their value and for us to be responsible enough to affirm every child that comes in here," said Scott-Miller of their space. "That's our responsibility."
Children who visit the bookstore get much more than the chance to see themselves portrayed in literature. Liberation Station is committed to introducing children to a world of art and endless possibilities via partnerships with the NC Opera, historic reenactments, ASL-friendly storytimes, and much more.
"I see Victoria as a very ambitious, very strong, very self-guided and self-determined young woman," said Poet Laureate Jaki Shelton Green, a close friend of the family. "At the same time, she's very community conscious and very dedicated and committed to not just elevating her own family, but how you have a community grow."
COMING SOON!
The first book in Victoria Scott-Miller's picture book series, The Museum Lives in Me, comes out March 2024 — exploring the concepts of self-discovery, empowerment, and the power of art through the eyes of underrepresented children and artists.
At Night, They Danced releases in the spring of 2025 — a picture book about Victoria and Duane's stay-at-home date nights as seen through Langston and Emerson's eyes.
Victoria is currently co-directing and co-creating BlkBone, a documentary about Black-owned bookstores, set to release in 2026.

Fueled by a desire for representation and diversity in literature, Scott-Miller is described by her husband as "a force that can somehow see a mustard seed and turn it into a universe."
"It's not just about getting the book, it's also about who's writing our stories," said Scott-Miller. "When you have a book that isn't written by an own-voice author, you are teaching that child to be a spectator rather than be an active participant in their own life and their own narrative. That's why this work is so deeply important. More than anything, this is our home, and it will be a mirror for some and a classroom for others. And we hope in the end that everyone is able to walk out with a piece of knowledge of themselves that they didn't have before coming in. So that is the goal."
When asked about her dream, Scott-Miller's eyes immediately fill up with tears.
"To be honest with you, the dream is to not have to need a space like this. I pray that we can just exist and be seen as human and we won't have to go through deep curation of our narratives just to show you that you are seen and valued."
liberationstationbookstore.com