If The ZEN Succulent sounds familiar, it's no surprise — the buzz around this 100% women- and minority-owned neighborhood plant and gift shop started long before the opening of its Raleigh storefront.
Owner Megan Cain founded her modern terrarium and plant craft line in 2012, opening her first brick and mortar location in the heart of downtown Durham in 2016. She has since been featured in Southern Living magazine, Our State magazine, HGTV, Good Morning America, Design Milk, and countless other publications. Cain has worked with Madewell, West Elm, and Anthropologie. In 2021, The ZEN Succulent was named among "16 of the Best Plant Shops Across the US" by Architectural Digest.
Cain sells her plant designs, unique indoor greenery, and handcrafted gifts from emerging makers at both her Durham and Raleigh locations. She can often be found with her hands in the dirt, designing plant installations and making terrariums behind the storefront counter every week.
Inspired by her love for color and the surrounding landscape, Cain authored the book Modern Terrarium Studio, published by Penguin Random House, and continues to teach plant workshops throughout the East Coast.
"I am passionate about helping people connect with nature through plants," said Cain. "I believe that plants can bring beauty, peace, and joy into our lives. I am so grateful to be able to share my love of plants with others through The ZEN Succulent."
We recently spoke with Cain to learn more about this unbe-leaf-able neighborhood treasure.
When did The ZEN Succulent first open?
Our flagship brick and mortar shop opened in November 2016 in downtown Durham. We decided to open up a storefront after building our local customer base over four years, and we wanted a physical place where we could display our terrariums and plant grafts consistently, instead of only doing the fairs and online sales in the area. It was the best decision we could have made, making that leap to retail brick and mortar. Seeing that we had a high clientele in Durham, we decided to try to create that same model in downtown Raleigh, in a slightly larger space. This allowed for more opportunity to expand our DIY terrarium bar and our sustainable living section, which we are super passionate about. We officially opened on S. Wilmington Street in May 2018.
What do you offer customers?
Our mission at The ZEN Succulent has always been to provide life, joy, and inspiration with plants and thoughtfully made gifts from local and regional makers throughout the United States. We source and craft all of our products with care, ensuring that any treasures you find at The ZEN Succulent are special, just like you.
We are proud to be the first terrarium bar on the East Coast, and happy to see how many more have popped up since our creation in 2016. We have a variety of different glassware and fun decorative toppings, so you can come in with an idea and make a living landscape that is completely your own. It's an awesome way to play in the dirt as an adult, but also a fun activity for date night or an outing with friends. We recently hosted a birthday party, and it was absolutely awesome to see so many people have fun and connect over plants.
What are some of your most popular sellers, and why?
As a neighborhood plant and gift shop, we tend to sell a lot of low-maintenance, easy-to-grow plants. We share our knowledge so that you can confidently leave knowing how to care for your plants for many years to come. We specialize in plants that work well in offices, apartments, and small spaces. That's why having our storefront downtown is so essential, because it is right within our target market's grasp. A recent popular seller has been our sustainable goods and essentials section. We have a refill station where you can bring empty containers and refill with sustainable kitchen items, like soaps, and we offer kitchen essentials, such as reusable brushes, bags, and utensils that are super cute and environmentally friendly.
Do you offer delivery?
We offer greenery directly to your doorstep! It has been very popular in downtown Raleigh. The delivery cost is $7.99, and we deliver anywhere within 10 miles of our storefronts, which covers a majority of Wake Forest, Cary, Morrisville, Carrboro, Chapel Hill, Raleigh, and Durham. We deliver multiple times throughout the week, making it the perfect option for a planned or last-minute gift.
Tell us about your private events!
Teaching and learning about plants has been the foundation of our business and success, and it's something that we're very proud of. We offer a variety of private classes where guests can hire us for their event or teambuilding, and we will teach the joy of plants and greenery. Each guest will leave with their completed terrarium and the knowledge to re-create again and again. You can find more information about our private workshops on our website. Stay tuned for our public workshops, which we have in our storefront on a monthly basis.
Describe your experience as a business owner in downtown Raleigh!
We have received so much support not only from the local community, but also from the Downtown Raleigh Alliance — which has provided education and research on the direction of downtown Raleigh. It's awesome having such a great resource that we can call upon, as well as fellow business owners in the area.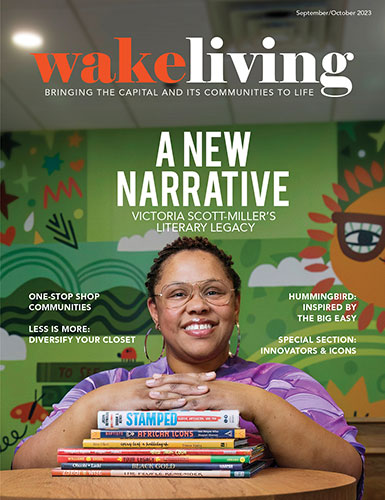 Small Business Spotlight: The ZEN Succulent