Attention, Raleigh residents! Vivian Howard — the award-winning cookbook author, PBS star, and legendary restaurateur — has officially brought her fabulous fare to the Triangle.
Howard's newest retail venture, Viv's Fridge, offers prepared entrees, appetizers, sides, snacks, and desserts in standalone refrigerator extensions of Chef & the Farmer, her restaurant in Kinston.
"I came up with the idea of Viv's Fridge during the pandemic, when the restaurants were closed and I was at home cooking and cleaning and just figuring out a way to get my food in front of people," said Howard. "I had also seen something called Farmer's Fridge, which I think is more prevalent now, in an airport about 6 or 7 years ago. They are like standalone vending machines that have healthy food in them, and I thought, wow, what a neat idea. I always had this fear of being trapped in an airport with no food, and I thought, oh, this would be open all night! So the idea for Viv's Fridge was a combination of that and watching all this interest in tenantless retail."
Viv's Fridge is the perfect solution for fans who have been eagerly waiting for Chef & the Farmer to reopen later this year, following a year's worth of renovations. Until then, foodies can get their fix by heading to a Viv's Fridge location, swiping their card on the side of the machine, and opening the door to a variety of seasonally prepared dishes.
"All of the food is prepared in the Chef & the Farmer kitchen by the Chef & the Farmer staff, and we make deliveries twice a week," said Howard. "The menu changes every two weeks."
Find A Viv's Fridge Near You!
The Wine Merchant, Cary
Taylor's Wine Shop, North Raleigh
Wine Authorities, Raleigh/Oakwood & Durham
Park Central (Next To Vita Vite), Raleigh/North Hills

Summer favorites include a tomato pie takeover, tres leches cakes, and blueberry cobbler.
"The summer is such a great time of year because we can make use of a lot of summer ingredients," said Howard. "We've also got a lot of the things that the Chef & the Farmer is kind of famous for."
Viv's Fridges are typically found in front of wine shops throughout the Triangle, and for good reason.
"We wanted to have them in front of businesses where there was like a natural synergy," said Howard. "You're often going to the wine shop to get a bottle of wine for dinner, and these are really meals intended to be enjoyed at home. So we pair everything with a wine from the property, and they work well together."
Fans can follow @vivs_fridge on Instagram for a schedule of local fridge and wine tastings at different locations throughout the Triangle — no registration required!
For more information on Viv's Fridge, and to see what's currently in the fridge, visit vivsfridge.com.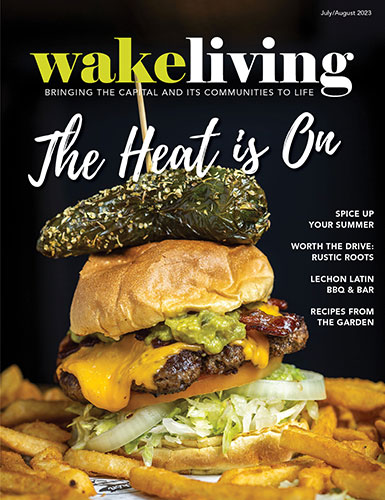 Flavor at Your Fingertips: Viv's Fridge