In 1989, friends Jill Staton Bullard and Maxine Solomon saw a local fast food restaurant throwing away its leftover breakfast sandwiches at the end of the breakfast hour and thought there must be a use for that food.
Bullard and Solomon rescued 11 sandwiches and took them a local soup kitchen, where the components of those sandwiches became part of 44 meals that day.
From there, the Inter-Faith Food Shuttle was born — named not for its affiliation with any faith-based organization, but for their own inter-faith alliance: Bullard was Episcopal and Solomon was Jewish.
As Bullard said in those early days, "We serve all faiths and people with no faith."
In its first year, the Inter-Faith Food Shuttle rescued 600 pounds of food from a landfill. By 2022, that number had grown to 9 million pounds, said Laura Rice, communications manager for the Food Shuttle.
The Inter-Faith Food Shuttle has grown not just in size, but in scope. Today it serves people in Wake, Durham, Johnston, Orange, Chatham, Nash, and Edgecombe counties.
"We term ourselves a non-traditional food bank," Rice said. "We give away food to those in need, but we also do so much more in the way of programs to help build self-sufficiency for people."
The Food Shuttle now grows produce on a 14-acre farm, which goes to its mobile markets — refrigerated food trucks that bring free groceries, produce, and baked goods to communities in need. Produce is distributed as well to programs for seniors, school children, soup kitchens, and rehabilitation centers.
The organization also educates the community, teaching culinary job skills, how to shop and cook healthy food on a budget, and how to grow food, Rice said. Two community gardens, one in Raleigh and one in Durham, complement these efforts by offering community members a place to grow and access fresh food, she said.
The Food Shuttle has faced unique challenges in recent years. The pandemic and rising food costs have left more people in need, and the organization tries to adapt to meet the needs of its varied population, Rice said.
For example, they focus on growing food to meet particular cultural needs.
"If you give someone food they're unfamiliar with or can't prepare, they're not going to use it," Rice said.
Requests for collards are high, so collards are grown on their farm. The Latino community uses peppers in many dishes, so peppers are grown as well, she said.
"We know to plan those crops, and we know they're going to be used," she said. "We are growing for specific audiences."
The same is true in so many of the programs they offer. The Food Shuttle provides about 2,000 bags of groceries each month to seniors in low-income communities. Their BackPack Buddies program sends food home on the weekends to children in low-income families. The organization stocks food pantries within schools as well that families can visit.
The Inter-Faith Food Shuttle currently has a staff of just over 50 people but logged more than 20,000 volunteer hours last fiscal year as well.
In addition to volunteers, support comes from individual and corporate donors, as well as foundations including Feeding America, Rice said. Corporations such as Walmart, Harris Teeter, Sam's Club, and others donate usable food that might otherwise go to a landfill, and the organization holds food drives as well. Rice is proud to say that 95 cents of every dollar Inter-Faith Food Shuttle brings in goes directly to support its food programs.
As the Inter-Faith Food Shuttle looks to the future, its focus is on listening to community members to meet their needs, and on bringing increased awareness to the overall population about the number of people who go hungry each day. Nine percent of North Carolina seniors face hunger on a regular basis, Rice said, while one in six school children faces the same threat.
"We live in one of the wealthiest countries in the world, but also a country where poverty and systemic barriers are rampant," Rice said. "We see this on the front lines."
It's an issue the organization's CEO, Ron Pringle, spends a lot of time thinking about.
"There are still people who don't believe this is a real issue, or their perception of the issue isn't realistic or holistic," Pringle said. "They think hunger is in the homeless population or the shelters, but no, hunger is in the classroom sitting next to your child."
When supply chain issues affected the United States, for example, it highlighted needs in communities with food deserts — a lack of access to grocery stores or other sources of food and produce.
So the Inter-Faith Food Shuttle now works with small local farms, which may also be struggling to make ends meet, funding those farms to supply produce to people facing hunger in the local community.
"This model builds the relationship between a farmer and the local community," Pringle said. "We're looking at long-term, impactful solutions."
Anyone interested in donating, volunteering, or learning more about Inter-Faith Food Shuttle can visit foodshuttle.org.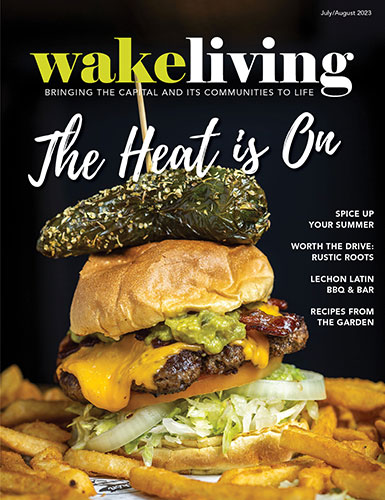 Pay it Forward: Inter-Faith Food Shuttle