Strawberry Beet Salsa
From Denise Gee
Makes about 2 cups
8 ounces red baby beets
8 ounces hulled fresh strawberries
3 tablespoons finely chopped red onion
3 tablespoons finely chopped fresh cilantro
1½ teaspoons honey
2 teaspoons freshly squeezed lime juice
¼ to ½ teaspoon hot sauce (optional)
Salt to taste
Trim and peel baby beets; place in a steamer rack resting in a pot, with 2 or 3 inches of boiling water. Cover pot and steam beets for 7 to 10 minutes, until they are fork tender. Remove the beets, and allow them to cool.
Finely chop the beets and strawberries, and add them to a large bowl.
Stir in the onion, cilantro, honey, and lime juice. Add the hot sauce, if using, and salt, if necessary. Cover and refrigerate for about 2 hours before serving.
Serve with sweet potato chips, tortilla chips, or any sturdy thick-cut potato chip.
Note: Cooked and packaged baby beets are available at specialty supermarkets. Well-drained canned beets will also work.
Summer Fresh Tomato Jam
Makes 1 pint of jam
2 pounds Roma tomatoes, cored and chopped
¾ cup brown sugar
Zest of one lemon
2 tablespoons fresh lemon juice
1 tablespoon freshly grated ginger
¼ teaspoon cayenne pepper
¼ teaspoon cinnamon
1/8 teaspoon cloves
½ teaspoon kosher salt
In a large Dutch oven on the stove top, bring all the ingredients to a boil over medium heat. Stir the mixture often.
Reduce the heat, and simmer for about one hour, or until the consistency of the tomatoes is thick and jam-like.
Cool completely in the refrigerator before serving with crackers and soft cheese.
Grilled Stone Fruit Bruschetta
Makes 6 to 8 servings
1 baguette, cut into 1/2-inch slices
3 tablespoons olive oil
2 nectarines, cut into quarters
2 apricots, cut into quarters
8 ounces mascarpone cheese
Handful of fresh mint leaves
Honey for drizzling
Maldon sea salt
Slice the baguette, and brush with olive oil on both sides.
Fire up the grill! Grill the bread until barely charred on both sides. Then carefully grill the nectarines and apricots.
Assemble the bruschetta by spreading the mascarpone cheese on the grilled bread. Layer with grilled stone fruit pieces and fresh mint leaves. Drizzle with honey and a sprinkle of sea salt.
Smoky Corn and Basil Salad
From Kayte Fry, Boards & Bites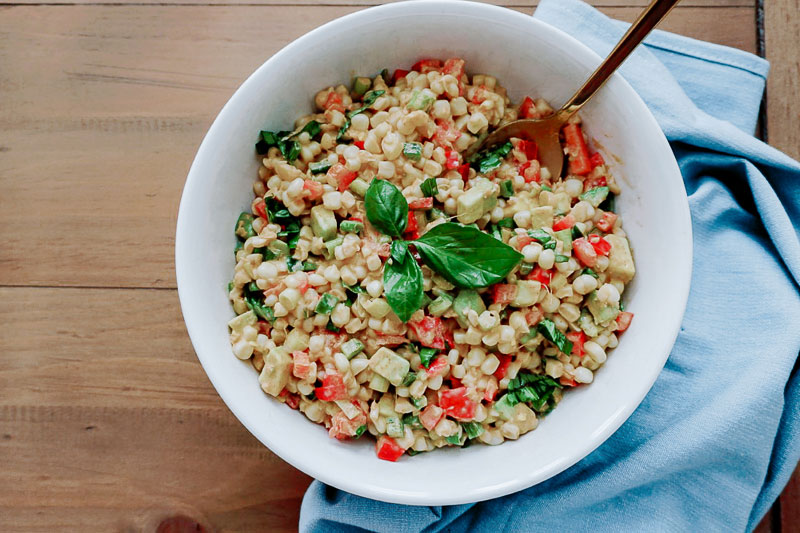 6 ears sweet corn, shucked and cut off the cob
1 tablespoon olive oil
1 medium tomato, chopped
¼ cup red bell pepper, finely chopped
1 medium jalapeno pepper, seeded and finely chopped
¼ cup scallions, finely sliced
1 small avocado, chopped
Juice from 1 large lime
2 tablespoons mayonnaise (Duke's is recommended)
1 teaspoon smoked paprika
½ teaspoon each coarse sea salt and freshly ground black pepper
3 tablespoons freshly chopped basil
To enhance its sweet flavor, saute corn kernels in olive oil for about 5 minutes over medium-high heat – for about five minutes. Be careful not to overcook; corn should still have a nice crunch. Set aside, and let cool for 10-15 minutes.
In a large bowl, combine sauteed corn, tomato, red and jalapeno peppers, scallions, avocado, lime juice, mayonnaise, and spices. Cover, and refrigerate until ready to serve.
Just before serving, toss in fresh basil.
Melon Salad with Mint
From Amber Keister
Makes 6 servings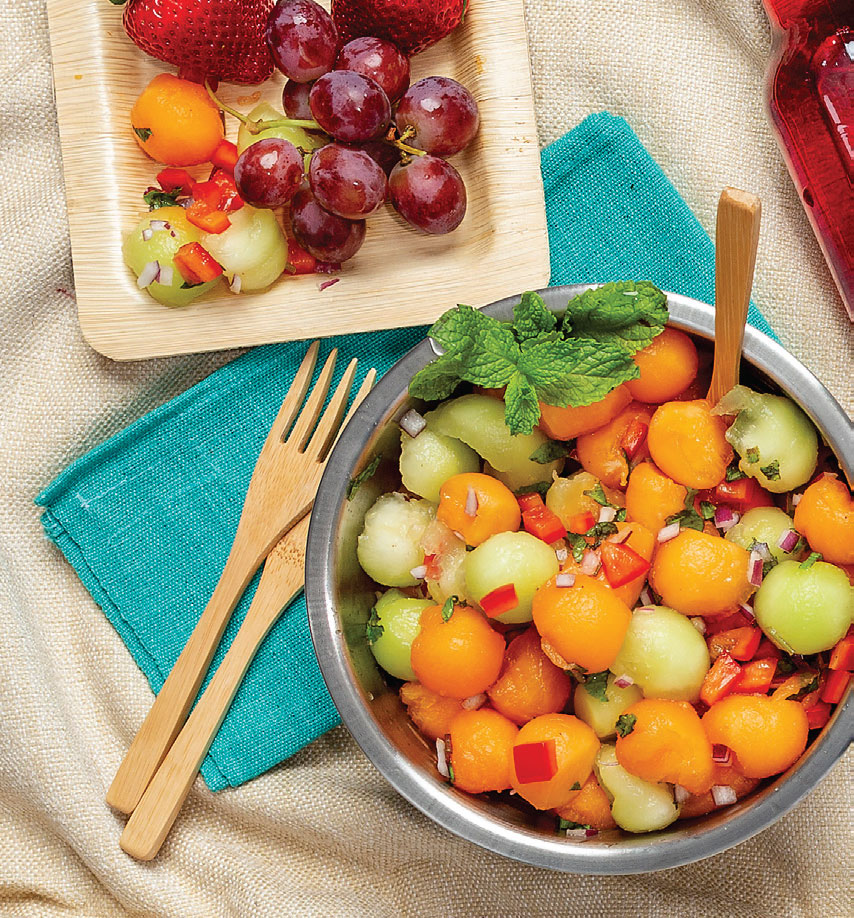 3 cups cantaloupe chunks or balls
3 cups honeydew melon chunks or balls
1 red bell pepper, diced
½ medium red onion, diced
2-3 tablespoons honey (adjust depending on sweetness of melon)
2 tablespoons rice wine vinegar or fresh lemon juice
Pinch of salt
¼ cup fresh mint leaves, minced
Mint sprigs for garnish
In large bowl, mix together cantaloupe, honeydew, bell pepper, and onion.
Combine honey, vinegar or lemon juice, and a pinch of salt. Pour over melon mixture, and toss to combine. Sprinkle with minced mint and toss again.
Refrigerate for at least an hour. Garnish with fresh mint sprigs before serving.
Black Bean and Corn Salad
From Amber Keister
Makes 4 servings
Liven up lunch with a versatile bean salad that can be eaten with tortilla chips, slipped into a cheese quesadilla, or spooned over salad greens. The salad can be made ahead of time and lasts several days in the fridge.
1 15-ounce can black beans, rinsed and drained
2 cups frozen or fresh corn kernels
1 red bell pepper, chopped
1 cup cherry tomatoes, halved
¼ cup fresh cilantro, chopped
¼ cup red onion, diced
2 tablespoons extra virgin olive oil
Juice from one lime
½ teaspoon ground cumin
1-2 teaspoons chipotle Tabasco sauce, or other hot sauce
Combine all ingredients, and let stand for one hour for flavors to combine. Toss again and serve.
Variation: Omit cilantro, lime, cumin, and hot sauce. Add 1/4 cup chopped fresh parsley. For dressing, combine 1/4 cup apple cider vinegar, 2 tablespoons sugar, and 1/2 teaspoon salt. Stir until sugar is dissolved, and whisk in the 2 tablespoons olive oil. Add 1/2 teaspoon Italian seasoning, if desired. Pour over other ingredients (beans, corn, bell pepper, tomatoes, parsley, and onion). Let stand one hour before serving.
Green Bean and Sesame Noodle Salad
From The Produce Box
Makes 6 servings
Sesame dressing:
3 tablespoons canola oil
3 tablespoons dark sesame oil
¼ cup soy sauce
3 tablespoons rice wine vinegar
2-3 tablespoons brown sugar
1 teaspoon Sriracha, or similar chili sauce
1 tablespoon minced ginger
1 clove garlic, minced
¼ cup chopped cilantro
Whisk all ingredients in a medium bowl to blend. Season dressing with salt and pepper. Let stand 30 minutes to blend flavors.
1 pound green beans, tips cut off and sliced in thirds
14-ounce package Chinese egg noodles or spaghetti
10 scallions, thinly sliced
1/2 cup shredded carrots
Sesame dressing
Bring a large pot of salted water to boil. Add green beans to boiling water, and cook for 3-4 minutes. Drain the beans and plunge into a bowl of ice water; strain and dry.
Cook the pasta in boiling water, until noodles are cooked through but still al dente. Drain well.
Toss pasta with the scallions, beans, and carrots. Pour the dressing over the top. Serve warm, or cover and refrigerate for a cold salad.
Watermelon, Roasted Corn and Mint Salad
From Chef Joseph V. Fasy, Fuquay-Varina
Makes 2 to 4 servings
3 ears fresh sweet corn, shucked
2 tablespoons canola oil (more for corn)
1 tablespoon rice wine vinegar
Freshly ground black pepper, to taste
Sea salt, to taste
4 cups watermelon chunks, seeded
¼ cup red onion, sliced into rings
2 tablespoons fresh mint ribbons
¼ cup feta cheese, crumbled
Drizzle corn with oil , and season with salt and pepper. Grill, turning on occasion, until slightly charred ; about 8 minutes. Remove and cool, then slice kernels off the cob. When slicing, try to leave sections of corn still joined.
Whisk 2 tablespoons oil, vinegar, salt, and pepper in a medium bowl.
Add corn, watermelon, onion and mint, and gently toss all ingredients
Sprinkle with feta cheese. Serve immediately or chill.
Easy Layered Taco Dip
Makes 12 servings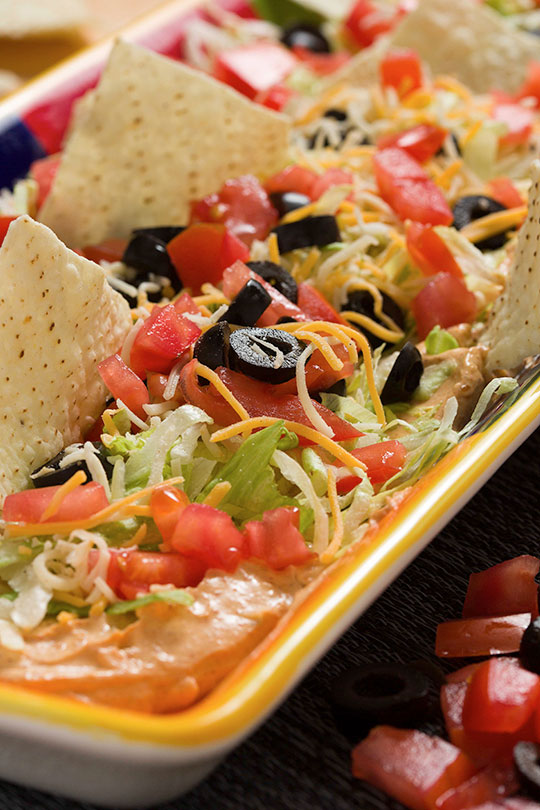 8 ounces sour cream
8 ounces cream cheese, softened
1 packet taco seasoning
Toppings:
Canned black beans, rinsed and drained
Shredded iceberg lettuce
Chopped tomatoes
Shredded cheese
Sliced green onions
Black olives
Pickled jalapeno slices
Diced sweet onion
Mix sour cream, cream cheese and taco seasoning thoroughly. Spread in an even layer in the bottom of a 10-inch serving dish. Pile on your favorite toppings, and eat with tortilla chips.
Eggplant Caponata
From Guiseppe Cataldo
Makes 6 to 8 servings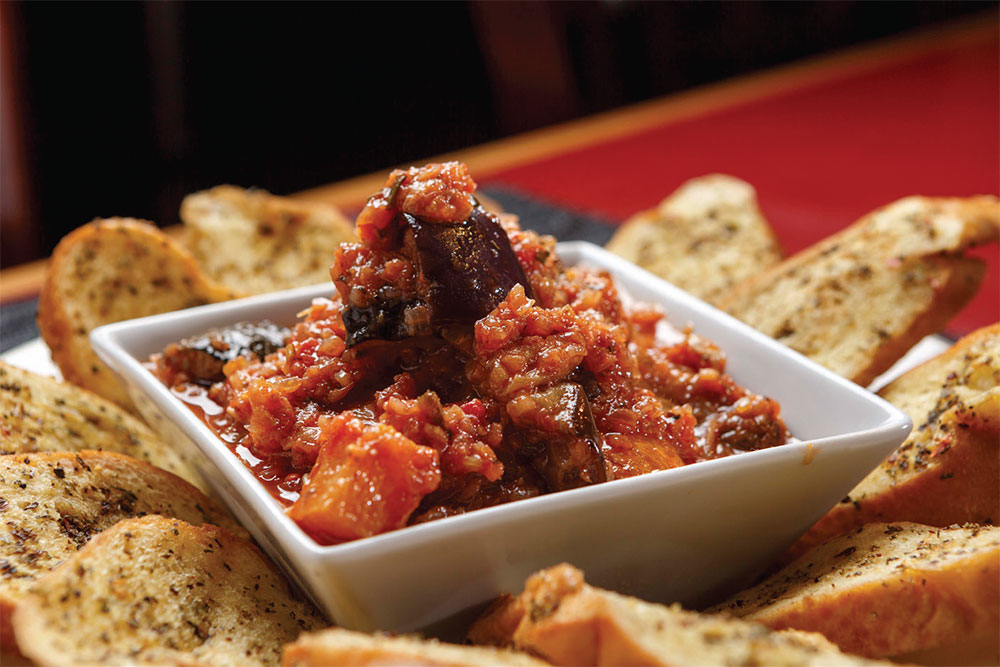 Eggplant, zucchini, squash, tomatoes and olives marry in a hearty dip that is delicious spread on toasted bread as an appetizer, or spooned over quinoa for a quick lunch.
1 large eggplant, cut into 1-inch cubes
1 yellow onion, diced
2 celery stalks, diced
5 whole olives, pitted and diced (Cataldo uses a mix of black and green olives)
1 tablespoon minced garlic
1 tablespoon tomato paste
1 tablespoon sugar
5 tablespoons red wine vinegar
3 plum tomatoes, peeled and crushed by hand
1 cup fresh basil, torn into small pieces
½ cup fresh mint, torn into small pieces
1 zucchini, cut into 1-inch cubes
1 yellow squash, cut into 1-inch cubes
Oil for frying
Salt and pepper to taste
Lightly salt the eggplant, and put in a strainer; set aside for 30 minutes.
Heat saute pan over medium heat; add oil to coat the bottom of the pan. Cook onions and celery until soft and onions are translucent; add garlic and olives. Saute for 30 seconds, or until garlic gives off a nutty aroma. Add the tomato paste, and cook for 1 to 2 minutes. Add sugar and vinegar to the pan, and cook for 3 more minutes. Place in a medium bowl, and add tomatoes, basil and mint. Set aside.
Rinse eggplant to remove salt. Heat oil in a large skillet; add eggplant, zucchini and squash and cook until soft.
Add eggplant mixture to tomato mixture and mix thoroughly. Season with salt and pepper to taste. Allow to cool for 30 minutes at room temperature before serving with toasted bread.
Sweet Potato Tacos with Grilled Corn and Avocado
Makes 12 small tacos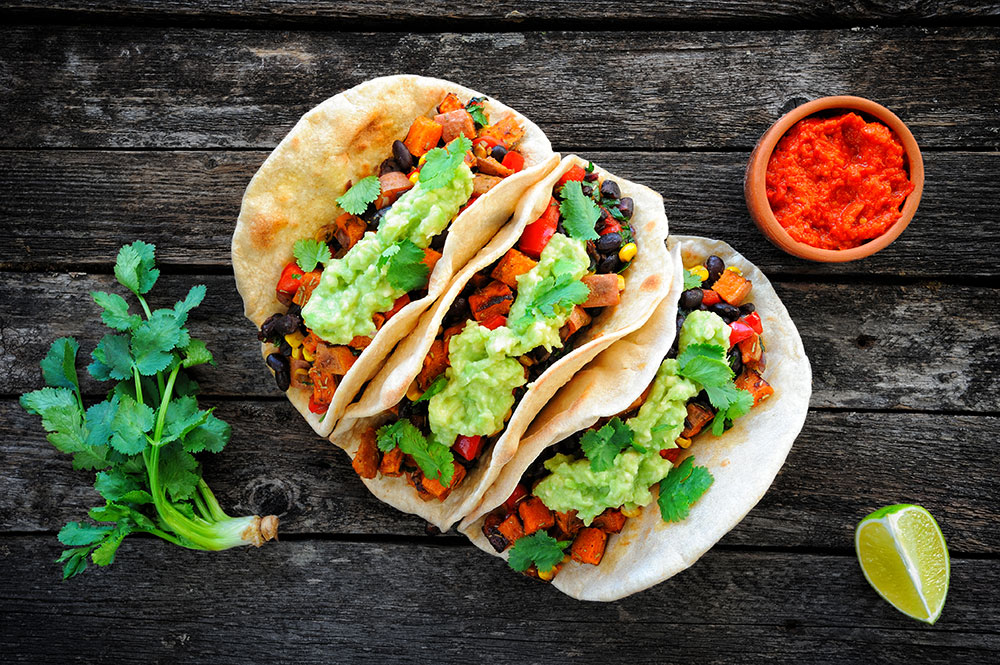 Roasted sweet potatoes:
2 sweet potatoes, peeled and cubed into 1-inch pieces
1 tablespoon olive oil
1/4 teaspoon cumin
1/4 teaspoon cayenne pepper
1/4 teaspoon kosher salt
Guacamole:
2 avocados
1 clove garlic
1 jalapeño pepper, seeded and finely chopped
1/2 small yellow onion, finely chopped
1 small lime, juiced
1 tablespoon olive oil
1/4 teaspoon kosher salt
1/4 teaspoon pepper
Black beans:
½ small yellow onion, chopped
1 tablespoon olive oil
1 15-ounce can black beans, rinsed and drained
1/4 teaspoon cumin
1/4 teaspoon chili powder
1/4 teaspoon kosher salt
1/4 teaspoon pepper
Grilled corn:
1 tablespoon olive oil
2 ears of fresh corn, shucked
1/4 teaspoon kosher salt
1/4 teaspoon pepper
To assemble the tacos:
12 small flour tortillas
Cotija cheese, sliced green onions and fresh lime wedges for serving.
Preheat the oven to 425 degrees F. Toss the cubed sweet potatoes with olive oil, cumin, cayenne, and salt. Roast the sweet potato cubes in a large roasting dish for 30-40 minutes until tender and the edges begin to brown.
Prepare the guacamole by combining all of the guacamole ingredients in a medium bowl, and mash with a fork until creamy. Transfer the guacamole to a serving bowl, and set aside.
In a medium pan over medium heat, cook the onion in the olive oil until the onion is soft and translucent, about 3-5 minutes. Add the black beans, cumin, chili powder, salt and pepper, and cook over low heat, stirring occasionally so the beans don't scorch.
Oil and preheat grill. Drizzle the corn with olive oil, and sprinkle with salt and pepper. Grill the corn over direct heat for about 10 minutes, turning often, until charred all over. Remove from the grill, and let the corn cool slightly. Cut corn from the cob.
While the corn cools, grill the flour tortillas until grill marks appear. 6. Remove the potatoes from the oven and assemble the tacos, first layering the beans, then the sweet potatoes, then the corn, and finally the guacamole. Top with crumbled cotija cheese, sliced green onions, and a squeeze of lime.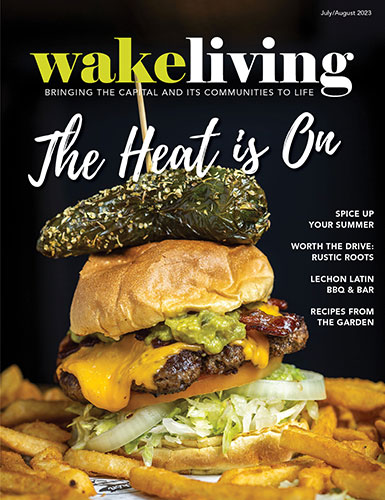 Summer Recipes from the Garden