It's never too late to start a new career and follow your dreams — just ask Russ Broome, owner of TheMixx (formerly BottleMixx), Wake Living's 2023 Readers' Choice Award winner for Best Bottle Shop.
The proud father of two college graduates, Broome had always wanted to own a neighborhood bar after getting his kids off the payroll. Following the pandemic, Broome adjusted his plans and began looking into the franchise model. Just before he could bite the bullet, he came across a broker's email saying that BottleMixx was up for sale. Russ met the owners in March 2021 and inked the deal in June, just in time for his 50th birthday.
"Life is too short," said Broome, who decided to take the leap a little early after losing his father and then career mentor to cancer over the course of two years.
At its new location in Duraleigh Corners, TheMixx now provides "exquisite prepared food and top-shelf liquor pours" in addition to a carefully curated inventory. Read on to learn more about what makes this award-winning bottle shop special — and for an introduction to Broome's furry co-owner, Sylver!
When was TheMixx founded, and what is the story behind it?
BottleMixx was founded in October 2012 at Brennan Station as one of the first bottle shops in the Triangle. While it started out as a beer store, it quickly grew to add wine retail and a small tasting bar. Recently, after the 10-year anniversary, investments were made to rebrand it to TheMixx and move to a new location with much better amenities, including an outside destination (which is still under design/construction), a liquor license for craft cocktails, whiskey flights, and the introduction of a food partner, Che Empanadas, which will be opening the on-site kitchen very soon.
What were you doing prior to opening TheMixx?
Previous to this post-retirement endeavor, I had a 27-year career in the manufacturing industry, working up and down the supply chain, culminating with working for the trade association in DC that supported the industry.
Tell us about your new location!
Our new location is the result of my persistent pursuit of a vision I had when I planned to open my own shop before finding BottleMixx for sale. I continue to live by the words of my old CEO, Jack Welch, who believes if you can't be the best at what you do, then why do it? My dad also loved that sentiment. TheMixx now has a private wine room full of appropriate ambience for upscale tastings, while still providing an awesome bar/lounge area for patrons to imbibe and enjoy the game of the day. We have an awesome space for live music outside, in addition to a great sound system installed by the local Audio Advice team.
What sets TheMixx apart from other bottle shops in the area?
I like to think we have the best ambience in combination with the best available beer and wine, up and down the price spectrum. We only have so much shelf and rack space, so if it's not considered to be the best, you may not find it here. The wine selections are carefully curated by our Level 3 WSET Sommelier and Wine Director, Nina Escobar. On the beer side of the house, while we do prioritize NC breweries, especially ones in the Triangle area, we do go beyond state lines for the very best beer along with cider, kombucha, hard and high seltzers, gluten free, and nonalcoholic options as well.
Tell us all about your offerings.
We offer the best craft beer, fine wine with a few special craft cocktails, and flights of all the above. Great music and terrific ambience is included!
What is your favorite drink?
I have always preferred big, bold red wines, imperial stouts, and bourbon — but my staff is opening me up to all the other great options out there, as well.
What are the best (and the most challenging) aspects of owning your own business?
The best aspect of owning your own business is the satisfaction of watching something you created grow and prosper over time. You can't be one for instant gratification, as anything worthwhile takes time! The most challenging aspect of owning your own business is knowing you can't bring in absolutely everything, so making those tough buying decisions every week is very difficult.
Introduce us to Sylver!
Sylver is my German Shepherd co-owner who I rescued at 3 months old. Her name stems from the Lone Ranger being my childhood hero, and the lady who helped me rescue her was named Sylvia. She joined TheMixx at 2 ½, and hopefully you'll get to meet her soon!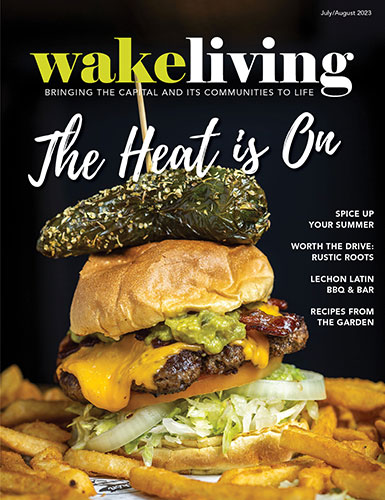 Small Business Spotlight: TheMixx