There's something exciting about traveling beyond familiar territory to visit a destination restaurant. In the case of Rustic Roots, a bona fide farm-to-table eatery in rural Franklin County — Bunn, North Carolina, to be exact — you'll discover culinary joy paired with extraordinary hospitality.
Founded by husband-and-wife proprietors Russ and Vanessa Vollmer, the restaurant has a longstanding family connection. Turns out Russ's grandfather constructed the building in 1952. For years, it stored tractors and other farm equipment.
"There's a lot of history in this space," said Russ, a Bunn native and erstwhile farmer who comes from four generations of local growers. "We have vintage agricultural signs on the walls and repurposed tin from an old tobacco barn on our family farm."
Though Russ sold the farm to his cousin several years ago, Vollmer Farm remains one of the restaurant's go-to suppliers for local provisions.
Spend just five minutes with Russ, a bighearted soul who makes everyone feel at ease, and you'll find out what matters most at Rustic Roots: hospitality and authenticity. (Editor's note: Vanessa was out of town the day we visited.)
"We want people to come in here, feel welcomed, and let us take care of them," he said with a broad smile. "A British food critic once said people go to restaurants because they have an appetite, but that appetite doesn't just define their hunger. They also have an appetite for hospitality."
As for authenticity, you'd be hard pressed to find a farm-to-fork establishment dishing up food fresher than what's served at Rustic Roots. Microgreens are sourced from JJ's Greens in Louisburg. Sweet potatoes come from Barnes Farming in Spring Hope. Joyce Farms in Winston-Salem supplies the chicken, while pork is purveyed by Goldsboro's Heritage Farms Cheshire Pork.
"The connection between source and plate is important," Russ emphasized. "Guests come in believing they are supporting local farmers, so we want to be sure to do farm-to-table authentically."
On any given evening that Rustic Roots is open, Vanessa, who learned how to cook from her mother, can be found shepherding the kitchen crew, while Russ handles front-of-house duties. It's a system that's worked well ever since the couple opened the 68-person-capacity restaurant in 2020.
Also notable is the duo's commitment to nurturing their staff.
"A lot of restaurants haven't done right by their employees, and they have created an unpleasant environment for people to come in and work," Russ said. "We take a completely different approach with our staff. It's much more family oriented. We care for each other inside and outside this place."
The Vollmers take pride in developing staff from within their own ranks. Consider assistant line cook Alli Strickland, a Rocky Mount native who has worked at the restaurant since the beginning, starting out as a hostess.
"They really do treat us like family," Strickland said without prompting.
Then there's primary line cook Nancy Cordero, from Mexico, who has 14 years of experience in the restaurant industry.
"This place is amazing because they give us opportunities to grow and be creative," she said.
One tangible way the Vollmers have empowered Cordero is by putting her eponymous tacos on the menu. Four homemade corn tortillas are filled with tender ribeye trim, cilantro, and grilled scallions served with zesty red and green salsa.
While the menu changes seasonally ("about every two months," according to Russ), popular items like hot honey chicken, black Angus ribeye, and the farmhouse burger tend to remain readily accessible.
"The burger is a special custom blend of brisket, chuck, and short rib," Russ revealed. The day we were there, it was crowned with a thick, juicy slice of tomato that tasted like it was picked from the vine that morning.
Assuming they are available when you go, don't miss the heavenly deviled eggs. They're made with just the right amount of Duke's mayo and topped with crispy bacon pieces and fresh microgreens.
Another remarkable small plate option, Pollo Pow Pow, should not be ignored. Chunks of chicken are tossed in Thai chili, teriyaki, and a secret fire sauce and then garnished with scallions. Let's just say one Wake Living crew member had a hard time sharing this sweet-and-spicy dish with his companions.
Be sure to order the intriguingly named Juicy Bread, which involves large pieces of grilled ciabatta slathered with garlic and herb butter.
Entrees like the bacon-wrapped Certified Angus filet mignon and the sustainably farmed Antarctic salmon will not disappoint.
"Our food isn't overly sophisticated," Russ said, "but it is fresh, made with quality ingredients, and it has some nice flair to it."
Save room for dessert. House favorite Brown Butter Cake, with its distinctive caramel- meets-cinnamon flavor profile, is totally worth the caloric binge.
"People ask what the secret ingredient is, and I tell them it's made with love," Russ said beamingly, adding that the dessert menu doesn't have prices on it — but nobody has ever asked the cost of an after-dinner treat.
When it comes to libations, Naomi Boykin deftly manages the cozy, corner-situated bar. Wine and beer are readily accessible, but it's the inventive signature cocktails that set the beverage program apart. Consider the Blackberry Bramble with muddled lemon, blackberries, house-made lemon simple syrup, Tanqueray gin, and ginger ale. There's also the Bunn Mule with Tito's vodka, ginger beer, and fresh lime juice.
"Naomi does an amazing job making creative, next-level drinks," Russ said.
The décor at Rustic Roots is warm and relaxed. Tables topped with brown butcher paper and fresh flowers are flanked by cedar-planked walls and an earth-toned cement floor. Wooden banquettes feature antique shutters positioned atop the back of the seats.
Russ was quick to credit Vanessa for the restaurant's unpretentious vibe.
"She envisioned everything," he said. "She said if we take care of the little things, the big things will take care of themselves."
Future plans call for a spacious outdoor courtyard with a fire pit and plenty of al fresco seating.
"This restaurant has been a faith journey for us," Russ said, "but the Lord has blessed us with his favor, and we are thankful."
Rustic Roots is open for dinner Wednesday through Saturday from 5 to 9 p.m. Reservations are strongly encouraged.
Rustic Roots
20 Cheves Road, Bunn
(919) 729-0007 | rusticrootsbunn.com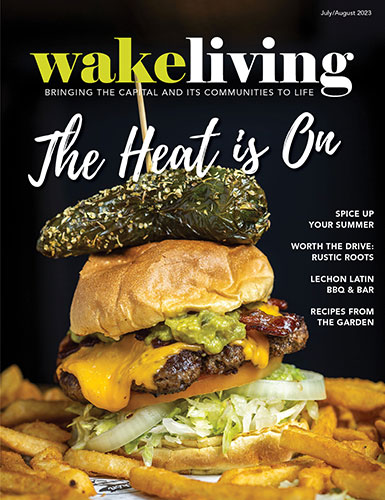 Worth the Drive: Rustic Roots