When it comes to spicy foods, many restaurants in Raleigh and its surrounding areas offer an explosion of fiery flavors — so if you can't take the heat, stay out of the kitchen! For the brave souls who are willing to season the moment, we have rounded up some local dishes for a bite to heat that you won't soon forget.
Nuclear Burger: CowBar
Spice up your life with the Nuclear Burger from CowBar! A mixture of short rib, chuck, and brisket, this 8 oz. hand pattied signature blend of ground beef is topped with CowBar's homemade nuclear habanero hot sauce, pickled red onions, sriracha ketchup, and fresh jalapeños. When it comes to fiery food, it's a job well done.
"It's 9 out of 10 hot," said Dan Yeager, CowBar's chef and owner. "Most of our customers are able to finish the burger, but every now and again we have a customer that thinks it is too hot. The hottest part of the nuclear burger is the hot sauce, not the raw jalapeños. It is a sinus clearer for sure, but it's not too hot to handle."
Cold Sweat: Sunni Sky's Homemade Ice Cream
If you've never heard of "hot" ice cream, then you're in for a (spicy) treat! Cold Sweat, offered at Sunni Sky's in Angier, is made from a combination of four hot sauces, with three different peppers mixed into the ice cream. Feeling up to it? You'll have to sign a waiver!
"Cold Sweat truly lives up to its name," said owner Scott Wilson. "The cold ice cream initially masks the heat, lulling first-time samplers into a false sense of security. A few seconds after the first bite you start to feel the animal coming through. Most customers end up red faced and tear eyed around the 30-second mark!"
Luckily, this small-town ice cream shop has more than 125 amazing flavors to soothe the burn, from blueberry dump cake to fruity pebbles. Be warned, this place is a local icon — so don't be surprised if you have to wait in line for a bit. Pro Tip: Bring cash; they do not accept cards!
Green Papaya Salad: Bida Manda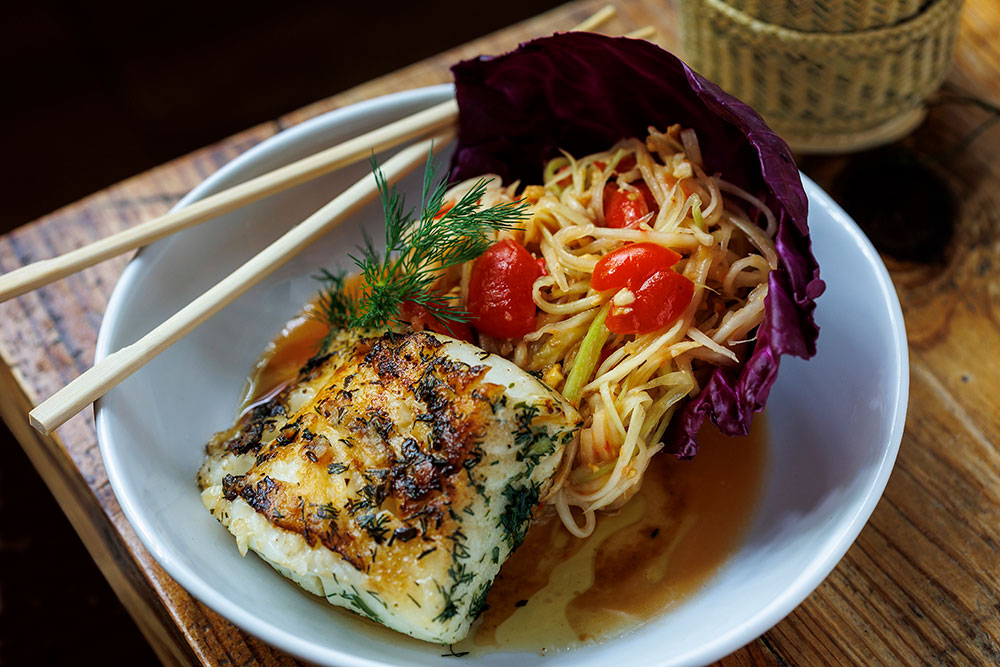 When you think of spicy foods, a salad might not be the first thing that comes to mind — but be-leaf me, Bida Manda's Green Papaya Salad can compete with the spiciest of hot wings.
"Green papaya salad is a quintessential part of Laotian cuisine," said owner Vanvisa Nolintha. "It is a vibrant dish usually eaten in Laos on a hot summer afternoon."
This Green Papaya Salad combines unripe hand-julienned papaya, tomatoes, peanuts, fish sauce, lime, and a house-made tamarind sauce. "Fresh Thai chili is added to your heat preference and paired with one of our staff's favorite proteins: grilled ginger and garlic pork neck, grilled soy glazed duck breast, or pan-seared dill and lime leaf sea bass," Nolintha said. Make it "Lao spicy" for an authentic Laotian experience — but don't say we didn't warn you!
Hot Pot: So Hot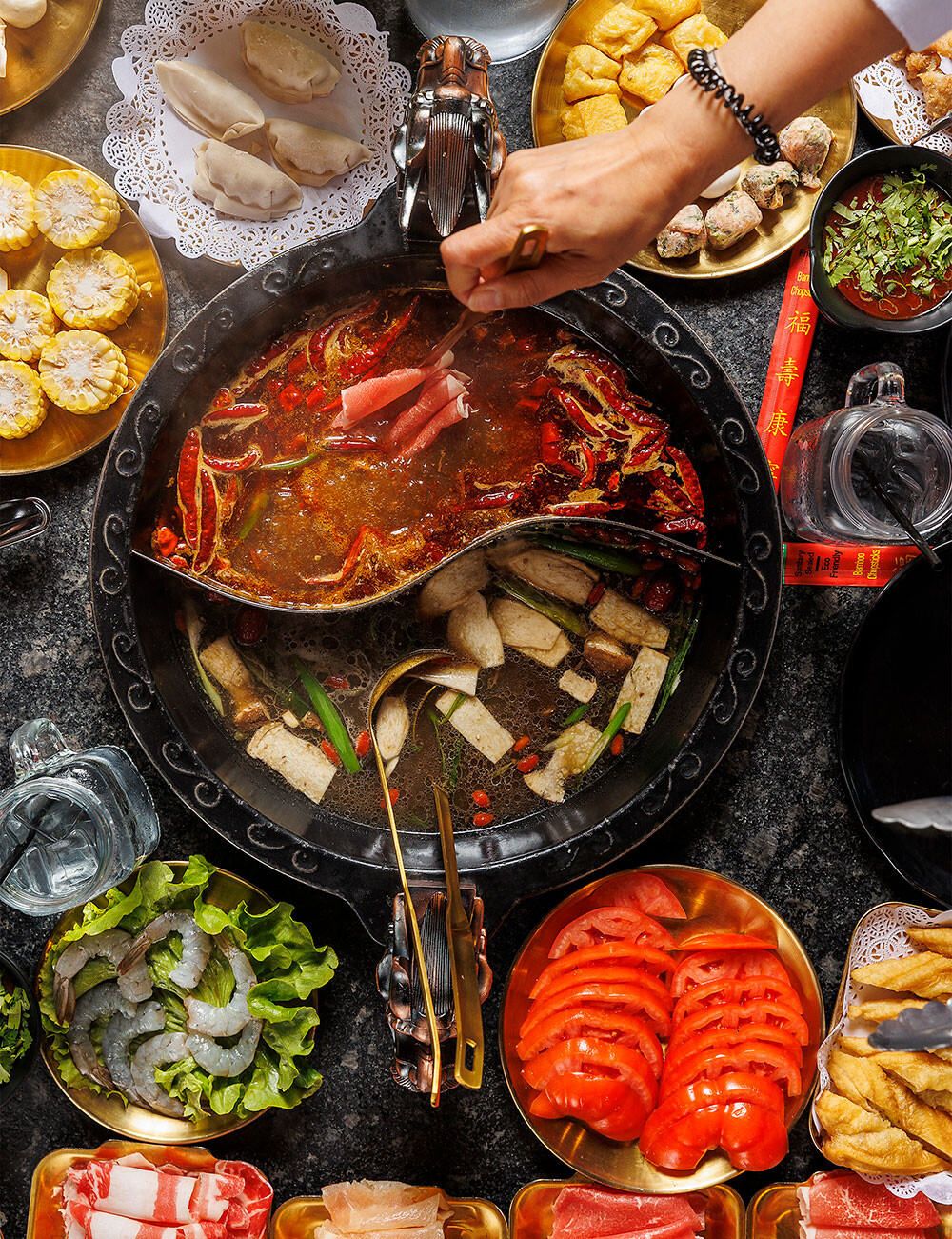 If you like spicy food AND unique international dining experiences, then So Hot in Cary is the perfect place to test your heat tolerance.
"More and more people in this area are discovering hot pot," said Lisa Liu, a native of China and the vivacious guest relations manager at So Hot. "It appeals to people who like to try a variety of spicy and not-so-spicy foods."
After being led to a table by an actual robot host named Alice, guests are presented with a flavorful broth served inside a large metal pot, akin to fondue.
"The general idea is that while the hot pot brew is kept boiling, fresh ingredients are placed into the pot and are cooked at the table," said Liu. "A big pot filled with simmering broth is placed at the middle of the table, accompanied by plates of various meats, vegetables, noodles, condiments, and dipping sauces. The ingredients are to be placed in the broth, cooked, and then taken out and dipped into the chosen sauce before eating."
The pot in the center of the table accommodates up to four types of broth, including options like spicy beef tallow, fresh tomato, Cajun, and original bone broth. Spice levels are adjustable based on each person's heat tolerance, but hey — go big or go home!
If you want an extra kick beyond the broth, be sure to visit the self-serve sauce bar for some spicy Szechuan (or sweet Cantonese and salty Beijing variants, if you prefer). Editor's note: David McCreary contributed to this piece.
Spice, Spice, Baby
Reach new heats with the GHOST PEPPER SALAMI SANDWICH, available at STATE OF BEER in downtown Raleigh. Featuring ghost pepper salami, chipotle mayo, spicy habanero slaw, pickled jalapenos, and pepperjack cheese, all served on a La Farm hoagie roll.
AVIATOR'S IMPERIAL MOCOLOCO CHALLENGE is not for the faint of heart. Made with a strong blend of ghost chili peppers, whoever eats 12 wings in 15 minutes or less will win an Aviator T-shirt (and bragging rights, paired with a much-needed dose of Mylanta). These wings are so serious, you'll have to sign a waiver (seriously).
Speaking of waivers, you'll also need to sign one for #THEHOTMACCHALLENGE at MON MACARON. Available during the summer months, these spicy macarons are flavored with Carolina Reaper pepper, cayenne, and a blend of spices. Eat one and post a video, and be sure to tag Mon Macaron on social media!
Break a sweat with BLAZING BUFFALO WINGS from WOODY'S AT CITY MARKET in downtown Raleigh! Heat our warning — these are made with the hottest sauce on the menu!
Looking for that perfect combination of spicy and sweet? ESCAZU CHOCOLATES has several unique items to choose from! Try the 74% Morita Chili and Vanilla Bar, Spicy Hot Chocolate, or the Spicy Chocolate Ice Cream Push Pop.
If you're looking for a savory, rich, and SUPER spicy sauce, look no further than REAPER MADNESS by OAK CITY HOT SAUCE. This sauce is perfect on beef, in chili, or on tacos needing a little something extra.